Environment
Business School Green Roofs Bring AU's Total to Five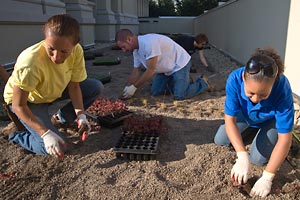 Fifty volunteers labored under beautiful, blue skies over the long weekend installing a pair of green roofs at the Kogod School of Business.

Located on the front and back terraces of the Kogod expansion, the swaths of sedums span 2,500-square-feet and bring American University's green roof tally to five. The Katzen Arts Center, Media Production Center, and School of International Service garage also boast low-maintenance green roofs.

"Sustainability work can be invisible. It sends an important message that faculty, staff, students, and alumni are all out here getting their hands dirty," said sustainability director Chris O'Brien of the five-day project, managed by neighboring nonprofit D.C. Greenworks.

Senior groundskeeper Jessica Lubell was among the volunteers who pitched in as part of what O'Brien called "an old-fashioned barn raising with a new-fangled twist."

Unlike the green roof high atop the Media Production Center, Lubell said the Kogod roofs "are more accessible, so everyone will be able to enjoy them and watch them grow.

"Green roofs are colorful and lush. They're very beautiful, in addition to being good for the environment."
Green roofs manage storm water on site, filtering pollutants that would otherwise flow into the Anacostia and Potomac Rivers and the Chesapeake Bay. They also provide insulation, lower urban air temperatures, and combat the heat island effect. 
Green roofs are also low-maintenance; according to O'Brien, they will last 40 years—twice as long as the average D.C. roof.

What's more, the new roof will help AU save some green on the new "impervious surface fees" levied by D.C. Water. By managing our own storm water, O'Brien predicts the green roofs will save AU more than $10,000 in fees. "Eventually, the roofs start paying for themselves," he said.

With the addition of two new green surfaces, AU now boasts the highest density of green roofs of any university in the District. According to management professor Dan Jacobs, who's been tapped to help shape a new Kogod master's in sustainability management, the roofs "signify commitment to sustainability . . . we want to practice what we teach."

"Kogod students will be part of the next generation of business leaders. We want to prepare them to address responsibly the needs of their generation and the generation that will follow them," said Jacobs, a former Department of Justice attorney who specialized in sustainability and environmental litigation.

Kogod will welcome its first crop of sustainability management students in fall 2012.