On Campus
SIS Abuzz Over Apiary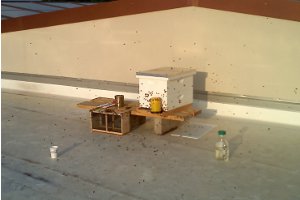 The smallest residents of the SIS building are causing a big buzz. 
A beehive has been installed on the already-green roof of the SIS building, with the potential to add two more hives before the month is over, according to International Development Assistant Professor Eve Bratman, who is spearheading the project.
The first group of 10,000 bees and their queen were delivered on May 23. While it will take the colony a little while to settle into their new home, over 50,000 bees will eventually make up the full complement. Within a year or two (with minimal maintenance), the busy bees can create up to 40 pounds of honey per hive.

But the sweet stuff isn't the point. "The hope from the outset is not 'Oh, be productive,' but to use these hives in my teaching, and to complement the campus' commitment to sustainability," explains Dr. Bratman. "It's relevant to my classes because I teach Environment and Development, where we do units on food security issues, and this is a form of urban agriculture and urban ecosystems."

The popularity of urban agriculture is spreading throughout the D.C. region; according to Professor Bratman, other universities and elementary schools in Washington, D.C. have started their own beekeeping projects, and the D.C. Department of Parks and Recreation received a portion of a grant from the Whole Planet Foundation earmarked for placing hives in green spaces throughout the city.
Epi-Pen carriers shouldn't worry too much about the increase of bees throughout the metropolitan area, and certainly not at SIS.
"These are non-aggressive honeybees," Dr. Bratman notes. "[SIS's breed of] Italian honeybees are docile bees."  Before embarking on the project, she discussed the risk factors with the SIS deans and the Office of Sustainability. 

Indeed, these bees are such industrious workers that they may be too busy to sting: they'll be far-ranging, pollinating up to five miles away from AU. Professor Bratman is confident enough about the hives' honey production that she created a honey co-op among SIS faculty and staff.
"Yields vary considerably, and are generally lower in a hive's first year ... But I think the rewards still will be great.  In addition to just great tasting honey, having local honey is really good for building up immunity to pollen allergies," Dr. Bratman wrote in an email to potential co-op members. 

"In the fall, hopefully, once the bees have done all their pollinating for the year, we'll have a wonderful bounty of honey to share in together," she remarked.
Learn more about beekeeping on the websites of BANV and Montgomery County Beekeeping Association.