Environment
Sustainable Campus, Sustainable City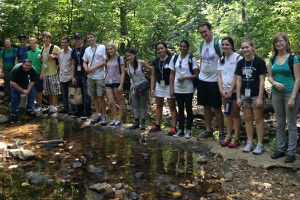 During this year's Welcome Week at AU, twenty freshmen experienced first-hand just what DC Mayor Vincent Gray meant earlier this year when he declared DC "America's Greenest College Town." The students participated in the Office of Sustainability's brand new Sustainable Campus, Sustainable City program. During the course of two days, students were introduced to nationally recognized sustainability efforts on AU's campus and heard from faculty experts representing a wide array of sustainability-related fields. They applied their newfound knowledge outside the borders of AU's campus by participating in citywide, hands-on service projects, and met with professionals in sustainability fields – many of whom are proud AU alumni.
A central theme of the first day of the program was the importance of managing run-off from rainfall to help keep pollution out of local waterways. After touring AU's "green," or vegetated roofs and rain gardens, both of which help to absorb rainfall cleanly, the group enjoyed a hike on local northwest DC trails where they saw the pipes through which excess storm water drains directly into local streams and creeks.
On the second day, they met AU alumnus Andy Oetman, now an environmental protection specialist with the District Department of the Environment (DDOE). Andy helped the students label more than 75 storm drain catchments in the Brookland neighborhood to inform people not to dump anything into the drains, as they lead directly into the Anacostia River.
The students visited the urban forestry nonprofit, Casey Trees, where they met with staff – some of whom also are AU alumni – to learn about the significance of DC's historic tree canopy and set the stage for future volunteer opportunities. The students went on a guided tree tour of Brookland's Franciscan Monastery and Gardens, led by Casey Trees staff. "The program made me aware of the environmental community and all of the niches that AU has to offer", said Matt Bugajski, who spent some of his first days at AU participating in the program.
When the students returned to campus, each of them also had the opportunity to get crafty and build their own solar battery charger inside of an Altoids tin, allowing them to take a small piece of sustainability as a souvenir with them as they begin their journeys at American University.
Click here to see a photo album from the program.