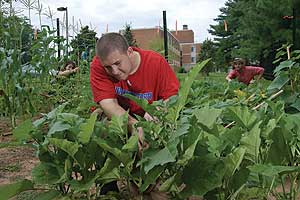 "Nothing beats a homegrown tomato," mused senior Kate Pinkerton, one of the green thumbs behind AU's first community garden, a 100-square-foot swath of soil behind Nebraska Hall.
Tended by members of EcoSense, a student environmental club, the plot features a cornucopia of fruits and veggies: peppers, peas, carrots, watermelon, eggplant, and more. The perimeter is lined with marigolds to fend off bugs.
"It's important to eat locally as much as possible," said Pinkerton, an environmental studies major. "Knowing that you produced your own food and that you reduced your carbon footprint in the process is even better."
Though plans for distributing the produce are still in the works, EcoSense hopes to host a community picnic with food from the garden.