On Campus
Full House at Panel of Experts Event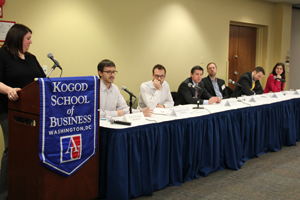 Preparation is underway for Kogod's 20th Annual Case Competition held Saturday, Feb. 11. With just a few days between the release of the case and the final presentation, undergraduate and graduate students gathered last night to pick the brains of this year's Panel of Experts.
This year's case, OPOWER: Increasing Energy Efficiency Through Normative Influence, has a sustainability focus. OPOWER, an energy-efficiency and Smart Grid software company that strives to engage the millions of people who are in the dark about their energy use is seeking a strategy for future success. Founded by Dan Yates and Alex Laskey in 2008, OPOWER uses cutting-edge behavioral and science-based approaches to inform and influence consumers to reduce their energy usage.
A six-person panel—all with expertise in energy and business development—discussed trends related to energy consumption and answered students' questions.
Chris Corcoran, working on OPOWER's policy and research team, is focused on expanding energy efficiency programs by developing market-based clean energy solutions. "There are two challenges to what we do: education and motivation," Corcoran said. "Most people don't know what energy costs, and, even if they do, they don't always want to change.
Denise Buhrau, assistant professor in Kogod's Marketing Department, expanded on Corcoran's comment, saying that the move from extrinsic to intrinsic values is a crucial step. "You have to get people to change because they want to change, not because they feel like they have to."
"I can save the world in an Excel spreadsheet, but getting other people on board is another story," said Chris O'Brien, AU's Director of Sustainability. "Even when you tell people what they can save, that doesn't mean they'll do what it takes."
"If certain changes were made by residential users across the country more than $280 billion in utility costs could be saved over the next decade," Corcoran said. "That's quite a bit per household."
Nate Greenberg, the business development manager at Washington Gas Energy Systems, Inc. talked about the delivery side—how energy is generated and distributed. He is responsible for renewable energy generation projects, including commercial solar projects, throughout the United States.
Christopher Demko, an attorney at the Federal Energy Regulatory Commission who focuses on legal issues pertaining to electric energy markets, talked about energy consumption from a federal perspective.
Eric Fleming, OPOWER's director of corporate marketing, rounded out the panel.