Environment
Gray Skies Don't Dampen AU's Green Spirit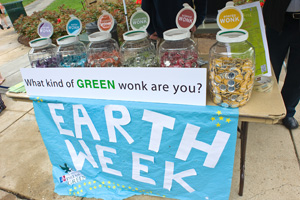 That the sun was nowhere to be seen as American University president Neil Kerwin capped Earth Week on April 22 by formally announcing the school's plans for the largest use of solar technology in the Washington metro area was of no concern.
AU knows bright days are on the horizon.
More than 2,150 solar photovoltaic panels will be installed on six AU buildings by July, resulting in the largest solar power system in the District of Columbia. In addition, 174 solar thermal energy panels will be installed on four buildings, comprising the largest urban solar hot water system on the East Coast.
Throughout the week thousands of students, faculty, and staff participated in dozens of events that underscored the importance AU places on being green. Last spring, the university announced its plans to neutralize greenhouse gas emissions and become a carbon-neutral campus by 2020.
"We've been working on this campus for a number of years to demonstrate our responsibility to the environment," Kerwin told Earth Day revelers eating veggie burgers and veggie dogs in the Mary Graydon Center. "It's a substantial statement. We're confident that we're on a path that will get us there by the date we've set for ourselves."
Green roofs are a major part of AU's environmental initiatives. On Thursday, a handful of staff and volunteers planted perennials, ornamental grasses, shrubs and sedums on a section of the Mary Graydon Center roof. The 8,800-square feet brings AU's total on six buildings to more than 45,000.
"The purpose of a green roof is to manage water," said director of sustainability Chris O'Brien, who led a tour of the school's green roofs on Monday. "But they also provide an energy benefit, a human benefit, and improve the roof's durability."
The two roofs at floor level of the second story of Mary Graydon look like courtyards, and now are covered by a revolutionary new system called Aqualok. A series of 4-inch deep square foam panels blanket the roof and can absorb up to 2½ inches of rain, water that otherwise would contribute to overflowing the city's storm water drainage system. During a storm water polluted by oil and other toxins found on impervious surfaces makes its way into area streams, rivers, and the Chesapeake Bay.
On a brisk but sunny morning, volunteers were cutting 4½-inch openings in the panels and placing plants and soil in them.
"It's a great system because it's very light weight," said Andrew Benenati, project manager for DC Greenworks, the nonprofit that designed and helped install AU's green roofs. "It's only eight to 10 pounds per square foot when fully saturated, as opposed to 18 to 35 pounds for other systems."
Green roofs reduce energy costs by an average of 14 percent per year, Benenati said. They add an extra layer of insulation in the winter and reflect sunlight in the summer. They're also much more aesthetically pleasing than a drab standard roof.
"I like the idea that we're beautifying the campus but also greening the campus," said environmental science master's student Kate Pinkerton '09, as she planted. "Plus, it's a good reason to get outside on a beautiful day."
A light drizzle on Tuesday didn't disturb George Merchant, AU master electrician. He was test driving a Chevrolet Volt, taking the electric car for a spin from main campus to the new charging station in the Katzen Arts Center garage.
The auto manufacturer brought the Volt to campus to tout its environmental attributes. For about $1.50 worth of electricity per day people can drive from 25 to 50 miles without using any gas — or producing any tailpipe emissions. Once the electric supply is depleted gas is used to power a generator that produces electricity, but the car can be fully recharged in about four hours using a 240-volt outlet (it takes 10 hours on a standard 120).
"I think it makes a good transitional vehicle from conventional to electric," Merchant said. "It's very quiet, very comfortable, and it's got extended range. I want to put it up on a rack and look under it."
That wasn't to be on this day, but Merchant left the test drive more convinced than ever that he'll one day own an electric car.
"I've been following the development of the electrical cars," he said. "Eventually I'm either going to get one or build one."