Environment
Green Teaching Program on Record-Setting Pace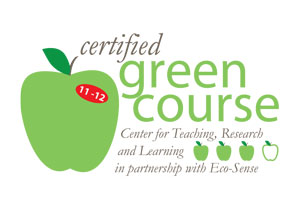 Last year, 107 faculty saved 43,000 sheets of paper by posting syllabi online.

"Little things can have a big impact if enough people commit to doing them," said Anna Olsson, manager of training, performance management, and assessment at AU's Center for Teaching, Research, and Learning (CTRL).

Such is the thinking behind CTRL's Green Teaching Certificate program, which has graduated 265 green faculty since it began in fall 2008.

Participants complete an online questionnaire, committing to environmentally friendly practices, each of which is assigned a point value based on the difficulty of implementation:

assign e-books rather than printed books (1 point)
administer quizzes and tests via Blackboard (1—2 points)
send students the syllabus electronically and post it on Blackboard rather than printing copies (5 points)
bike, walk, or use public transportation to get to work once a week (2 points)
turn up the air conditioning in the classroom (1 point)
use videoconferencing or speakerphone for guest speakers (2 points)
encourage students to take notes on laptops (1 point)
guide students toward internships and jobs in green fields (1 point)
use the chat function in Blackboard to meet with students outside of class (2 points)
use e-reserves for articles and book chapters rather than handing out hard copies (5 points)
Based on the points accumulated, faculty can earn five levels of green certification. The majority reach the "four apple" level with 75 points, while a few green go-getters reach the "gold star" level with 90 points or more. In addition to marketing their courses as green on Blackboard and syllabi, professors receive a water bottle proclaiming their eco-friendly status.

CTRL has seen participation blossom in the last four years. In 2010—11, 149 professors and 300 courses were certified across all four schools and the College of Arts and Sciences (CAS)—an increase of almost 15 percent over the previous year. CAS led the way with 83 green faculty, followed by the School of International Service with 25 and the School of Public Affairs with 17. Already this semester, 103 faculty have enrolled—including 28 who were certified for the first time—putting the program on a record-setting pace.

Green teaching veteran, CAS professor Chris Tudge, was among those recertified this fall.

"As a biologist I am always concerned about the state of the world and our environment," he said. "I practice a lot of energy-saving, conservation, and recycling measures in my daily life, so it's hypocritical not to practice them when I teach."

Tudge, who posts his syllabi electronically, recently moved the multiple-choice exams for his largest General Education class, BIO 100, which has 150 students, to an online format to save paper. He estimates that, between the two, he saves about 5,000 sheets of paper a year.

Word of AU's thriving green initiative is spreading to institutions across the country.

Howard University started a green teaching program last fall based on CTRL's certification, and Olsson has received inquiries from Prince George's Community College, Ohio State, and Arizona State University.

"The idea that something similar could spread to other universities, magnifying AU's impact, is exciting," said Olsson, who will give a presentation on the program at the Professional and Organizational Development Network in Higher Education's October conference.

The certification was also cited in s "green ratings," announced last month. AU is one of only 16 schools nationwide to receive the publication's highest rating for its practices and policies regarding energy use, recycling, food, buildings, transportation, and academic offerings.

In 2008, Olsson developed the green certification as a graduate fellow at CTRL and a doctoral student in the School of Public Affairs. Realizing she "wasted huge amounts of paper teaching," she turned to the Internet for programs AU might emulate, but came up empty.

 "I was shocked. I thought, 'it's such an easy thing to print double-sided.'" So she gathered a small group of professors and the president of the student group Eco-Sense to craft the questionnaire CTRL continues to use today.

"We update the questionnaire every year to include all innovative, green practices faculty give us. It's not hard to run a program that has that kind of enthusiasm and support from the campus community," Olsson said.

Much as Olsson credits the program's success to the faculty, Naomi Baron, CTRL's executive director, praises Olsson's "leadership in making green thinking part of the AU academic landscape."

"Environmental awareness is not just a concept reserved for recycling or Earth Day," Baron said. "Rather, sustainability is a notion we can incorporate into our everyday lives, including as university faculty."

For more information about the Green Teaching Certificate, visit www.american.edu/provost/ctrl or contact Anna Olsson at 885-6077 or aolsson@american.edu.