On Campus
Putting More Money in Your Pocket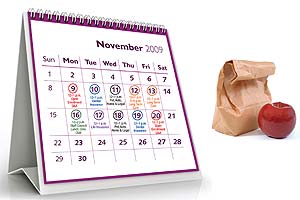 AU asked, you answered.
Last November, Human Resources surveyed faculty and staff to gauge their opinion of AU's benefits package. Based on feedback from 16 percent of faculty and 29 percent of staff, HR learned the university is already doing a lot right.
Ninety percent of respondents were extremely satisfied with their retirement plan, while 70 percent gave favorable marks to the medical plan. Staff gave a high rating to AU's tuition remission benefits, while faculty favored the educational benefits plan for their children.
Faculty and staff also indicated areas for improvement, chief among them: the dental, short-term disability, and long-term disability benefits, and flexible work arrangements.
This month, HR is rolling out benefits—some new, many improved—that reflect faculty and staff's needs. Employees can sign up for everything from pet insurance to a new dental plan during open enrollment, Nov. 9-30. A new flex work arrangement policy was also announced Oct. 23.
For more details about the changes, click here.
HR will host several "lunch and learn sessions" over the next two weeks. Locations will be announced in Today@AU and on the my.american.edu portal under "Employment -- 2010 Open Enrollment." Lunch will be provided.
Employees can also go to the my.american.edu portal to make changes to their benefits. New rates are effective January 1, 2010. For more information, contact Human Resources at x2591.