Technology
IT Scores First-Place Prize for 'Getting Connected'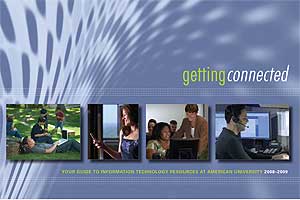 Revised, Sept. 21. AU's Office of Information Technology (OIT) brought home five industry awards for excellence in Web sites and publications, including a first-place prize for "Getting Connected," the campus guide to IT resources.

It's the fourth time the publication has been honored by the Special Interest Group on University and College Computing Services (SIGUCCS). It's also the third time "Getting Connected" has snagged first place in the "printed how-to guides" category.

"We're absolutely thrilled that this publication has continued to be an industry leader," said Terry Fernandez, director of Customer Service and Support, OIT. "We've heard people say that this is the example that they want to model at their own institutions."

Fernandez noted that piecing together the guide is a very collaborative process, with 10 people in two offices, OIT and University Communications and Marketing, working together to present a tremendous amount of information in a user-friendly way.

The 60-page reference guide helps faculty, staff, and students navigate Blackboard, block unsolicited e-mails, back-up their data, and download software. Chocked full of facts and figures about technology use on campus, the publication also features information about training opportunities, virus protection, and AU's vast wireless network.


OIT's other accolades include:

Award of Excellence (second place), Computing Services Public Web Site
Information Technology @ AU for New Students Web site

Award of Excellence, Computing Services Public Web Site
Office of Information Technology Web site

Award of Excellence, Electronic Computing Newsletter
AU Information Technology newsletter, spring 2009 edition

Award of Excellence, General Service Promotional Materials
Office of Information Technology: Year in Review, 2007-2008

SIGUCCS is a professional organization that focuses on the support, delivery, and management of IT services in higher education. The awards will be presented during the group's fall conference, Oct. 14, in St. Louis.