AU Eats Local
By Patrick Bradley
October 3, 2011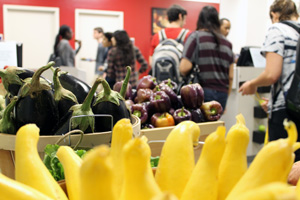 Fresh is Best
On September 27th, students eating in the Terrace Dining Room (or TDR) could enjoy a meal with farm-raised Potomac catfish and fried okra to a local cheese board and artisanal bread, all meant to showcase DC's rich, local ingredients.

The special meal was a result of AU's food management company, Bon Appétit, and its 7th annual Eat Local Challenge. The Challenge took place at more than 400 of the company's restaurants across the nation that day, bringing the nation together over local eats.

Mary Soto, executive chef at AU for the past six years, is committed to serving as many local ingredients as possible.

"The beauty of local food is that you don't have to do much to it," she says. "It's the freshness. It's the flavors. The purity of it is just amazing."

Soto coordinated with local farmers and co-ops to offer students a spectrum of area-made products ranging from ice cream, milk, and yogurt to greens, sweet potatoes, and turkey. Even the day's coffee was roasted locally by the Chesapeake Roasting Company, a literal mom-and-pop operation.

More than Taste

The Eat Local Challenge reinforces AU's commitment to green, sustainable living, but that's not to say that TDR doesn't pursue this mission on a daily basis.

"If I can find it and it's local, I'm going to buy it," Soto says. "Our policy is 20% [local ingredients], but I try to exceed that."

By grabbing food from area farmers and markets – including the weekly market on campus – Soto decreases her orders for processed and transported ingredients. Her efforts support the local economy and reduce AU's carbon footprint, pushing the university ahead toward its goal of carbon-neutrality.   
   
Unfortunately, securing local food can be a challenge for a restaurant that serves over 3500 students every day. Many farmers simply can't handle the volume that a hungry campus requires.

This year in particular has been even more difficult due to a natural complication – flooding. Farmers have struggled to yield any crops in some cases, losing entire harvests to the season's flood waters. Soto has purchased whatever small quantities come available in order to help local producers.

"Some of them have lost acres and acres," she explains. "As a company, we support them and take the punches with them. As soon as they start producing, we'll order."

The Student Palette

The food used in the Eat Local Challenge met a strict set of criteria: produced within a 150-mile radius of the campus by an owner-operated business, certified humane, sustainable, and free range, among other requirements.

At the end of the day, however, the Challenge's success hinges on student awareness and flavor approval. Soto believes that students' tastes are changing, leaning more toward the local, organic food crafted in her from-scratch kitchen.

"I think kids are becoming foodies," she says. "It's to my benefit. They'll eat anything."

With the local cheeses, fish, and greens cleaned out by hungry AU foodies, Chef Soto and her cook staff look ahead to their next sustainable food challenge in the spring's Low Carbon Diet Day. With Soto in the kitchen, it's sure to be another tasty menu that promotes AU's commitment to a green, healthy world.