On Campus
Opportunities at SOC Lead to Dream Job for Commencement Speaker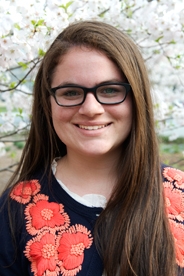 Sylvia Brookoff (SOC/BA '13) says that speaking at SOC's 2013 commencement is the perfect way to share her appreciation for the school that helped open so many doors for her.
"American University, and SOC in particular, is more of a community than it gets credit for," she says. "We have a faculty and staff that are so unique to AU, and many people don't realize that until they leave."
As a Film and Media Arts major and Marketing minor, Brookoff pursued many opportunities provided both by AU and outside of the school that incorporated and developed the skills she learned in SOC. Her impressive list of internships includes the Travel Channel, National Geographic, PBS, and even the chance to spend a month at the 2012 Summer Olympics in London where she was a production runner during the Opening Ceremonies.
She also created her own opportunities. During her time as an intern at The Washington Post, Brookoff created a video with fellow SOC film students covering Elton John's Charity Tennis Tournament. She submitted it to the Post, and their film was posted on the Post's site.
"I would advise everyone to take advantage of the partnerships that SOC [has with DC institutions]," she says. "I didn't realize how many opportunities were here, but they ended up being the most impactful part of college."
Brookoff's experiences at SOC eventually helped her decide what she wanted to focus on specifically through her major in Film and Media Arts. After visiting Nickelodeon as part of a New York site visit trip offered through SOC and the Career Center during her sophomore year, Brookoff became interested in children's media. Kathryn Montgomery's class Children, Media, and Society fostered this interest, which eventually led to Brookoff recently landing her dream job in Nickelodeon's Summer Associates program after graduation.
These experiences motivated Brookoff's speech, and were part of what made her stand out as the final choice for commencement speaker.
"Sylvia's speech describes, on a very personal level, the broad range of academic and professional experiences that students throughout SOC pursue," explains SOC Dean, Jeff Rutenbeck. "She did a fabulous job of connecting what she has done both inside and outside of the classroom to the prospects for her future which, in her case, means recently accepting an amazing job at Nickelodeon in New York."
The role of commencement speaker in itself is a personal achievement for Brookoff.
"I used to have a fear of public speaking. During my sophomore year I even took an acting class to overcome it," she says. "When I found out I would be a commencement speaker, I emailed my teacher from that class and told her how I went from being scared of speaking my sophomore year to being a commencement speaker my senior year."