Environment
The Greenest University in the Nation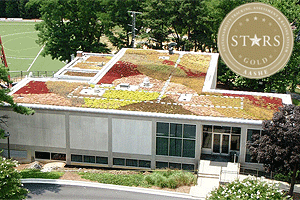 American University has earned a gold rating from the STARS (Sustainability Tracking, Assessment & Rating System) system developed by representatives from colleges and universities, higher education associations, related nonprofit organizations, businesses, and government agencies and administered by the Association for the Advancement of Sustainability in Higher Education (AASHE).

A charter participant in the program, American University is the first university in Washington, D.C. to earn a STARS rating and is the top scoring university in the nation, qualifying for STARS gold status, the highest level a college of university has achieved to date. 242 higher education institutions have registered to use STARS.

"Our STARS Gold rating is a powerful tribute to the work of thousands of people at American University but we have a lot more work to do, said Chris O'Brien, director of sustainability. "Our current goal is to eliminate negative impacts—no carbon, no waste. But our real aspiration is to increase positive impacts -- healing some of the damage and restoring natural systems to better conditions."

Sustainability isn't a buzzword at American University; it's a culture visible in everything from how public safety officers patrol the campus to how the residence halls are cleaned.  It's a dedication to environmental and social responsibility exemplified by the new LEED gold-designed building for the nation's largest School of International Service and programs that teach filmmakers how to tell the earth's stories while caring for the planet and its wildlife.

American University's push toward sustainability began in the '90s with a rededicated focus to the original campus plan, designed by Frederick Law Olmstead. The university revived Olmstead's original design to incorporate more gardens and green space across campus. AU signed the Talloires Declaration in 2006, the first official statement made by university presidents, chancellors, and rectors of a commitment to environmental sustainability in higher education. In spring 2010, AU announced its plans to neutralize greenhouse gas emissions and become a carbon-neutral campus by 2020.  

This spring, the university will install the largest solar photovoltaic arrays in the Washington metro and the largest urban solar hot water system on the east coast. A wind turbine has also been designed for installation this year. In addition, more green roofs will be added increasing the already highest density of green roofs of any university in the District.

AU's sustainability programs are earning increased recognition too. The U.S. Environmental Protection Agency (EPA) honored AU as one of the top 54 colleges in its 2009–2010 College and University Green Power Challenge. AU is also included in the Princeton Review's Guide to Green Colleges.

AASHE introduced the STARS online reporting tool in January 2010. Colleges and universities have one year to submit a comprehensive sustainability report. AU is one of the first schools to submit a report.  

Institutions earn points in three main categories: Education and Research; Operations; and Planning, Administration and Engagement. Each of these categories includes subcategories such as Purchasing, Curriculum, Energy, and Human Resources. There is also an Innovation category to recognize pioneering practices that aren't covered by the three main categories.

American University achieved 72 percent in education and research, 54 percent for operations and 76 percent of the credits in planning administration and engagement available in each area, plus 4 credits for innovation for a total of 70 percent. To earn a gold rating, which is good for three years, an institution must earn a minimum of score of 65.

The STARS program provides a guide for advancing sustainability, enables meaningful comparisons over time and across institutions by establishing a common standard of measurement, and creates incentives for continual improvement toward sustainability.