Help AU Retain Its Top Spot In RecycleMania
By Joshua Kaplan
March 5, 2012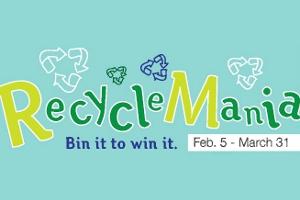 The 2012 RecycleMania competition at AU kicks into high gear this week, as we remain in the number-one spot nationally for a second consecutive week. A slew of exciting events to promote AU's goal to finish in the top spot, ahead of other universities, is listed below. Be sure to mark your calendars, as you won't want to miss these events.
The events kick off tonight at 6:30 p.m., as the Residence Hall Association provides delicious s'mores in exchange for recyclables at all residence halls across campus, and continues with events including a recycled sculpture showcase, trash cleanup, an e-waste drive, and much more.
To see our full schedule of events throughout the entire competition, and for information about what can be recycled on AU's campus, visit our RecyleMania webpage.
For the full national standings, updated weekly, visit the national RecycleMania webpage.
For more information on any of the events listed below, contact sustainability@american.edu
Week of Monday, March 5 – Friday, March 9
MONDAY 3/5
S'Mores for Recycling
6:30 - 8 p.m., North Side of "Tiki Man," Letts-Anderson Quad & Tenley Campus
Nothing says recycling like s'mores. Keep RecycleMania going strong with some delicious s'mores outside the residence halls. Bring your recyclables for collection and receive a s'more from the Residence Hall Association and Student Government. This event was scheduled originally for February 24th as part of AU Founders' Week 2012, but was postponed due to rain. Come out and let the Founders' Week celebration continue.
WEDNESDAY 3/7
BottleBall
12-2 p.m., Letts-Anderson Quad (rain site: Anderson Hall lobby)
Bin it to win it! Recycle your bottles and have fun at the same time. Test your skills and make a basket, and you will be able to win snacks and prizes, and LED light bulbs and mugs. The event is hosted by the RA staff of Centennial Hall and the Centennial Hall Green Eagle.
Reclaim, Reimagine, Recreate: Recycled Sculpture Showcase
7-9 p.m., Katzen Arts Center Rotunda
View the amazing sculptures made entirely out of recycled materials by AU students, cast your vote for your favorite, and enjoy refreshments, music, and a recycled craft. RSVP to the Facebook event by clicking here.
Trashy Crafts in the Perch
8 p.m., The Perch (Letts Hall)
Let your creativity shine as we up-cycle together. Have fun making crafts from recycled materials. The Perch will provide free drinks (coffee, tea, or hot cocoa) to the first 20 attendees, so don't forget to cut down on waste by bringing your own mug. The event is hosted by the RA staff of Centennial Hall and the Centennial Hall Green Eagle.
Waste-less Wednesday: Get Caught Green Handed!
All Day & Every Wednesday in March
Until the end of RecycleMania on March 31st, the Office of Sustainability's Green Eagle eco-reps will reward those around campus who are spotted doing something sustainable. The Green Eagles will patrol campus all day long, handing out prizes to whomever they see recycling waste in the proper bins. In this case, it's easy (and rewarding) being green.
THURSDAY 3/8
E-Waste Drive
Thursday & Friday, 11 a.m. - 2 p.m., Quad outside MGC
Do you have a pile of personal electronics at home you're not using, including outdated laptops, cell phones, cords, ink cartridges, and more? Facilities Management sponsors AU's first 2-day E-Waste Drive on the quad. All electronics will be recycled or reused and diverted from landfill. For a complete list of items we will accept, visit http://bit.ly/AcceptedElectronics. If you have AU-owned electronics ready for pickup, send a request to AUSurplus@american.edu.
Weekly Trash Pickup
Every Thursday, meet at 2:30 p.m. in front of the Ward Circle Building
Take some time on Thursdays to help beautify the area surrounding campus and collect trash and recyclables that will count towards RecycleMania. The timing of this event coincides with classes that let out at 2:35 p.m. Gloves and trash bags will be provided. This fun community service and community-building activity will occur weekly through the end of the semester. RSVP to the Facebook event.