Achievements
The Class of 2012 Donates to the Emergency Financial Aid Fund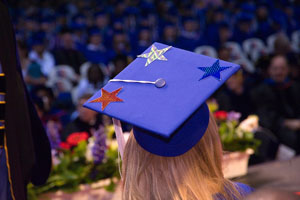 Since 1926, the senior class gift has been a respected and time-honored tradition at American University. For their senior class gift, the Class of 2012 has elected to donate to the Emergency Financial Aid Fund. This important fund provides support for students who experience unforeseen economic difficulties and may otherwise not be able to graduate.
The 2012 graduating class entered AU in 2008, at the beginning of the most economically unstable time in recent history. Most students either faced economic hardship themselves or witnessed classmates struggling to stay in school. Unfortunately, in this challenging economy, many students still face financial hardship, jeopardizing their dream of ever earning an AU diploma. The Emergency Financial Aid Fund ensures that students are able to continue their studies through to graduation, despite financial challenges they may face on the way.
After hearing about this generous gift, deans across campus were inspired to join the Class of 2012 in their efforts. College of Arts and Sciences Dean Peter Starr; Kogod School of Business Dean Michael Ginzberg; School of Communication Dean Larry Kirkman; School of Public Affairs Dean William LeoGrande, and School of International Service Dean James Goldgeier have committed to matching, dollar for dollar, any gifts that students graduating from their school or college make, up to $1,000 each. The deans were impressed with the graduating seniors' altruism and practicality. Dean Starr of the College of Arts and Science elaborated, "It says a lot that our seniors are sensitive to the financial needs of future AU students and are willing to invest their own resources to help make an AU education possible for their future peers."
By the time of graduation, the students and deans raised $14,000 for the Emergency Financial Aid Fund. To make your own gift, please click here.