Campus News
SOC's Campbell Lends Groundskeepers a Gloved Hand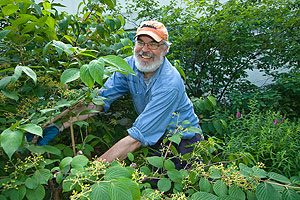 This summer, School of Communication (SOC) professor W. Joseph Campbell traded his suit for a spade to help groundskeepers on the north side of campus prune, plant, and plow.

The journalism professor, who's long admired the university's well-manicured lawns and immaculate flower beds, is working part time in Facilities Management through July.

"Every day is a seminar, in a way. I've learned so much about the campus and all the different trees and grasses," he said. "It's a privilege to work with such a talented group of people."

Stephanie DeStefano, grounds operations coordinator, was flattered when Campbell approached her about the summer gig. "He's always been complimentary about the grounds, and I was surprised and flattered that he wanted to join us for a couple months."

Though Campbell enjoys soaking up the sun and working outdoors, he will hang up his work gloves at the end of July and return to the classroom. "I've had a great time, but I can't say I love digging up weeds," he laughed.