On Campus
New Media Expert Lih Joins School of Communication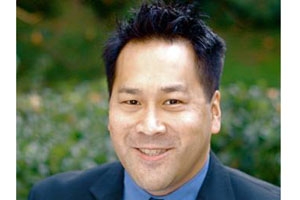 The School of Communication is pleased to welcome new media researcher and technology author Andrew Lih to American University. Lih will join SOC this fall as an associate professor of journalism. 
A well-known expert on the Wikipedia project, his book The Wikipedia Revolution: How a bunch of nobodies created the world's greatest encyclopedia, (Hyperion 2009) is an acclaimed narrative account of the online community that has created one of the most influential Web sites in the world.
SOC Dean Jeff Rutenbeck is excited to have Lih on board. "Andrew Lih has been creating, researching and teaching at the intersection of journalism, new media and technology for nearly two decades. His energy and expertise are a great addition to our journalism program, which has long been focused on preparing students to meet tomorrow's digital opportunities."
Lih's research continues in analyzing Wikipedia's influence, including its intersection with the role of journalism and GLAM (galleries, libraries, archives and museums) as knowledge creation in the public interest. He is a technology commentator for KCET in Los Angeles and a regular panelist on the weekly PBS MediaShift audio/video podcast.
Lih comes to SOC from the University of Southern California where he was an associate professor and Director of New Media. Prior to USC, Lih taught at the University of Hong Kong Journalism and Media Studies Center as journalism professor and assistant director of technology. While in China, he developed an expertise in China's Internet development, technology and online censorship system.
One of New York's first dot-com founders, Lih created the new media program at the Columbia University's Graduate School of Journalism in 1994, where he served as adjunct professor and director of technology for their Center for New Media. He also developed the first guidelines for the Pulitzer Prizes to accept digital multimedia submissions starting in 1999. He was also a principal investigator at the Interactive Design Lab at Columbia, a collaboration between the journalism school and the School of the Arts to investigate interactive design issues for multimedia content.