Communications
WONK TV Ad Stars AU Talent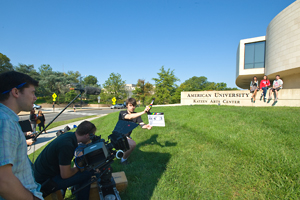 Watch "All the WONKS Are Talking"
You see her in a bus shelter, juggling a landline, cell, iPad, and digital camera — the Connected WONK. There he is in the metro station, clutching a pile of overflowing textbooks — the Academic WONK.

What has become the university's iconic branding campaign, "WONK," is dominating public spaces throughout Washington, D.C., again this fall. It's a campaign that swept the region last spring, bringing awareness and recognition for the progress of American University to prospective students, parents, employers, and higher education peers.

And as this fall's WONKS tout the university's recent successes — like topnotch faculty hires and good employment rates for recent grads — it's as though the colorful still-frame figures have taken on a life of their own. Playing upon that notion, the University Communications and Marketing brand team developed the television spot, "All the WONKS Are Talking," which will begin airing in the mid-Atlantic market Sunday, October 16, during Meet the Press, Face the Nation, and CBS Sunday Morning.

Under the direction of Matt Fredericks, director, university video department, a cast and crew including AU students, staff, alums, and even faculty member Matt Boerum teamed up to recreate the still poster ads using actors who made the images come to life as they expressed their excitement about AU.

In the commercial, still posters that currently dot the Washington landscape come to life at a bus shelter and metro station, in an Express ad, and even on a billboard wrapped in postproduction around the Katzen Center for the Arts. Through a mix of graphic manipulation, camera work, and straightforward acting, the team created the unusual — and perhaps unheard of — feat of giving viewers a reason to closely watch an ad-within-an-ad.

Said Deborah Wiltrout, assistant vice president of marketing, "This spot was designed to give us a bigger bang for our investment by essentially amplifying the rest of the advertising buy in the marketplace." Once you see the ads moving, talking, calling attention to AU's success, how can you miss their doubles around the city?

Plus, the television commercial is polished and far livelier than its competition. "It's also not your typical higher ed PSA, which helps cut through the clutter of a crowded media market," said Wiltrout.

A Technical Effort

It's not quick work bringing still poster ads to life. There's the commercial's opening scene, in which two women walk through a metro station and are surprised when the Academic WONK drops a few books from his poster hanging on the metro wall out into their walking space. Between filming an actor — student Sean Sidbury — as live representation of the still ad, and time in postproduction using rotoscoping animation technology to splice the moving ad into existing footage of the metro walk-by, that first scene alone took a collective 250 hours' effort to produce.

Working on the crew offered professional experience for students and alumni. MFA film and digital media grad Mike Kurec '10 served as key grip-gaffer and said "I learned a lot about what heading the electrical department entails and just how much work it is to keep it all together." While shooting for an ad campaign that represents AU students learning from leaders in their fields, a number of current students did just that. Said Kurec, "It was also nice to be able to work with some of the current students and pass along some of the things I have learned along the way."

The ad was shot on a state-of-the-art Arri Alexa camera, which is rapidly becoming the industry standard for commercial and television cinematography. According to David Stone, post-production supervisor and AU video editor, none of the student crew members had previously had the opportunity to work with the Arri Alexa. That experience "immediately gives them a leg up on their classmates and to schools that don't have access to that camera."

AU Production, Through and Through

In addition to a cast and production crew that overwhelmingly consisted of AU students, staff, and alumni, CAS lent its support through the use of its Kreeger Studio and SOC through its Media Production Center. Said Teresa Flannery, vice president for communications and marketing, "It is fitting that a television commercial about AU's collective achievements was produced through the team effort of so many talented AU people."

That talent includes Eddie Leavy '12, SOC public communications, who has plans to pursue acting after graduation. He explained, "It was the first film project I had done . . . doing this commercial showed me that film is another option I'd like to explore." During the shoot he met another actor who gave him resources on how to find auditions in the D.C. area. "It's all about networking." Leavy stated.

Making the commercial in-house meant that the University Communications and Marketing branding team, which internally created and launched the WONK campaign, was directly tied to the ad's creation. Fredericks noted that, unlike an outside company, the production team is deeply familiar with the campaign. More than that, said Fredericks, "We are tuned in to what the university's goals are and what we'd like to accomplish with the spot."

Tune-In, Tweet

The commercial will air in the mid-Atlantic region October 16–November 6 during Meet the Press, Face the Nation, CBS Sunday Morning, The Daily Show, and Colbert Report. The spot will also appear twice nationally in February on CBS Sports Network during AU men's basketball games.

Finally, between all the snappy footage, a Twitter hashtag has been secretly embedded somewhere in the ad. The first 30 people to find and tweet the hashtag and its location within the ad will be eligible for WONK merchandise. Follow @AmericanU for more details.