Student Life
Unique Scholarship Benefits Members of College Republicans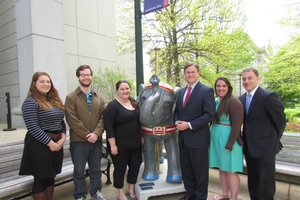 AU's reputation as the nation's most politically active campus received another boost. Andrew Serrato, SPA/BA '16, a rising sophomore and newly-elected secretary of the AU College Republicans (AUCRs), was selected as the inaugural recipient of the newly-endowed Ira F. Jersey College Republicans Scholarship. The fund was established by alumnus Ira Jersey, SOC-SPA/BA '93, himself an active member of AUCRs while he was a student. It is the first scholarship at AU to be designated for a member of the College Republicans.

A native of Paxton, Mass., Andrew always knew AU was the only school for him. "In high school, I felt that I was the only one who followed or cared about politics, so when I looked into AU, I was immediately drawn to its political student body," he says.

As a freshman, Andrew quickly jumped into College Republicans activities. After a great first-year experience in which AUCRs produced some of his most memorable moments, he is excited for what the future holds. "I believe the club's and American University's best years are ahead, and I am extremely proud to be a part of it," he says.

Andrew considers the presidential inauguration to be a highlight of his first year of college, despite the fact that Barack Obama, a Democrat, was taking the oath. "While the man I hoped to be President was not the one being sworn into office, it was beautiful to witness so much patriotism that day," he notes.

With the newfound aid from the Jersey Scholarship, Andrew gratefully shares that he will be less dependent on a part-time job to pay expenses, and plans to ratchet up his involvement with the College Republicans as a result. He and the executive board have identified expansion of the membership as a top priority. "By demonstrating to the student body that there are more Republicans on campus than it seems, we hope to create a more welcoming and accepting political climate," he explains.

Sharing Andrew's passion for the College Republicans is Ira Jersey, the alumnus who established the fund. During Ira's three years with AUCRs, the club brought dozens of Republican speakers from Congress and the George H. W. Bush Administration to campus, and traveled to work on state and local campaigns in Maryland and Virginia. These experiences were instrumental in enhancing Ira's time at AU and solidifying friendships on campus. They also provided him with the skills to co-found and lead local chapters of the Young Republicans after graduating. Today, Ira utilizes his political background as director of U.S. Interest Rate Strategy at Credit Suisse, where he frequently lends his expertise to several major media outlets. His time at AU also proved valuable in another way—he married an AU alumna, Hilary Zackroff Jersey, CAS/BA '94, and together they have three children.

By giving back, Ira hopes that recipients of the Jersey Scholarship will be able to focus more on pursuing opportunities that interest them, just as he did. "I had the fortune to work on Capitol Hill as an unpaid intern for two different Republican members of Congress," he recalls. "If the scholarship helps students to take advantage of all that AU and Washington, D.C. have to offer, then I would call it a success."

In addition to opening doors for career opportunities, the Jersey College Republicans Scholarship is poised to foster relationships and bring together generations of College Republicans. "I hope to reach out to more AUCR alumni and create more connections," Andrew says.