Celebrating Ambulante
By Ania Skinner
November 7, 2012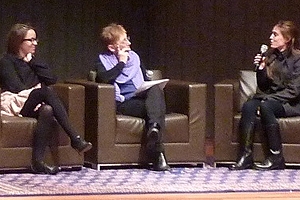 "Ambulante is the poster child for successful social media," says Pat Aufderheide, a university professor and the director of the Center for Social Media. "They take social issues and intersect them with documentaries in a difficult environment. They are an inspiring example for all of us here."
Auderheide was speaking at the event, "Celebrating Ambulante," which included a panel discussion and film screening of the traveling festival from Mexico. Ambulante brings documentaries into Mexican communities for easily accessible and informative viewings that exemplify the importance of using media to connect and engage people across various social issues. The event was co-hosted by the Center for Social Media, the Center for Latin American and Latino Studies, and the Mexican Cultural Institute.
The evening's event highlighted two of Ambulante's programs and the people behind them who have made the traveling documentary showcase so successful. Elena Fortes, director of the Ambulante Festival, and Carolina Coppel, director of Ambulante Beyond, each spoke on behalf of their programs and answered questions from the assembled audience regarding everything from the process of making the films to the two-year old program Ambulante Beyond.
This new program revolves around creating a new generation of social leaders by giving them the resources and knowledge to create their own documentaries. It is a one-year training program for students culminating in making a movie using only ten hours of film and $1,000 in 30 days.
Carolina Coppel presented the student-made documentary, Campo 9, which covered the cultural differences and budding friendship between a Mexican community and the Mennonites that also lived there. The professional and thought-provoking film directed by a 32 year-old farmer and filmed by a 15 year-old will be shown in upcoming Ambulante festivals.
Aufderheide moderated the event and said, "Ambulante Beyond does an excellent job at teaching. They really show that we only need to tell the students what to do, we don't need to tell them what to say."
In addition to highlighting Ambulante Beyond, Elena Fortes also introduced the film Entrevista con la Tierra, a moving documentary of a young boy dealing with the death of a close friend. This film was part of the series "Ambulantito," which seeks to give a voice to the children and addresses issues that matter to the younger generations.
"The most rewarding part of this whole experience is watching people's reactions," said Fortes. "Especially when we capture people who are just passing by the festival, and they have that 'I didn't know' reaction. It's all about changing people's perspectives."
The importance of what Ambulante does in Mexico and how they use film to reach out to numerous communities embodies the positive impact that social media can have, a concept that the hosting organizations were hoping to showcase.