International
Professor's Book Redefines Child Soldiers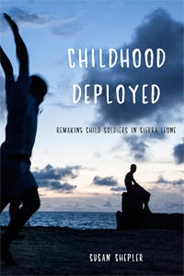 Associate Professor Susan Shepler's new book, Childhood Deployed: Remaking Child Soldiers in Sierra Leone, examines the difficult reintegration of former child soldiers in Sierra Leone.
The book argues that there is a fundamental disconnect between the Western idea of the child soldier and the individual lived experiences of the child soldiers of Sierra Leone. Susan Shepler contends that the reintegration of former child soldiers is a political process having to do with changing notions of childhood as one of the central structures of society.
Sierra Leone's devastating civil war lasted from 1991-2002 and left more than 50,000 people dead and over two million displaced as refugees. Many children were forced to fight and were traumatized by their experiences.
Shepler was a Peace Corps volunteer in Sierra Leone in the 1980s, before the war there started. She returned ten years later, while the war was ongoing, to look at the effect of the war on the children there and on their education.
Shepler visited interim care centers for former child soldiers and conducted ethnographic research over the course of several years. Some of the children returned home to their former communities and she was able to document their reintegration process.
Shepler notes in the book that there was a wide range of different experiences among the children, who ranged in age from eight to eighteen during the war. There were varied outcomes for boys and girls and differences in how long they had been with the armed groups, what faction they had belonged to, and whether they were abducted versus voluntarily joining.
The reintegration process, she argues, is political and social in nature, and is highly influenced by the socially-constructed and changing notion of childhood. Shepler's research will help give aid organizations that assist children in war zones a more appropriate framework to work within.
Shepler is currently on a Fulbright Fellowship in Nigeria. She will also be supervising students in the fall SIS practicum program on Sierra Leone.