Environment
How Engaged Are Young Adults on Issue of Climate Change?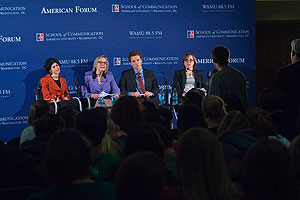 Students bombarded speakers with questions this week on live radio as experts discussed "the climate change generation" and the beliefs and perceptions of today's young people, who grew up hearing about climate change and anticipating a world of rising oceans and changing weather patterns.
A just-released study, The Climate Change Generation, coauthored by SOC professor Matthew Nisbet finds that young people are more accepting of the existence of climate change, but still don't see it an issue of personal importance.
According to Nisbet's survey, Americans between 18 and 34 have greater trust in scientists and the Obama administration and greater faith in the effectiveness of taking action — even if, on the whole, they're not all that active themselves.
While they identify themselves as relatively disengaged compared to older generations and tend to have opinions that, like other Americans, fall along party lines, the data does suggest there is untapped potential to engage young Americans on the issue of global warning.
Many in the audience for this week's American Forum were already engaged and made it clear in their questions. The panel discussion broadcast on WAMU featured Juliet Eilperin, environmental reporter for the Washington Post; Kate Sheppard, environmental politics reporter for Mother Jones; and Nisbet, coauthor of the report with SOC professor Lauren Feldman and two scholars from Yale and George Mason. SOC professor Jane Hall moderated.

The panelists spoke of political gridlock in Washington, the role of the media, and how young people view the situation and fit into it themselves.
An informal gauge of audience opinion at the start of the program provided a good measure of students' current viewpoints.
Do they believe that climate change is a serious problem? Strong applause.
Is it more important than jobs? Quieter applause.
Are scientists and environmentalists exaggerating the problem? A smattering of applause.
One student noted that, unlike many other hot-button issues, which don't require a lot of information to form an opinion, thinking about climate changes means "deferring to experts." While information may be available — and while Nisbet's data indicates that this generation places a high degree of trust in science — it also isn't a topic on which it's easy to form a spur-of-the-moment opinion, the student noted.
How the media frames the issue can also be problematic. One student asked if they thought the media has created a false choice between jobs and the environment. Nisbet noted that, in the survey, young people's opinion of the media is just slightly higher than their opinion, overall, of Sarah Palin.
Another student, who said her views on the environment impact her decisions as a voter, asked them to identify the most underreported issue. Historically, Nisbet said, only about 5 percent of the coverage of climate change mentioned public health issues.
Nisbet studies strategic communication in policy making and public affairs, looking particularly at controversies surrounding science, the environment, and public health.
The American Forum is an hour-long interactive media program with a live town-hall audience. Developed and moderated by Jane Hall and produced by AU's School of Communication in association with WAMU-FM, the American Forum seeks to connect and engage young people with national and international media issues.