Business
Gary Vaynerchuk Crushes It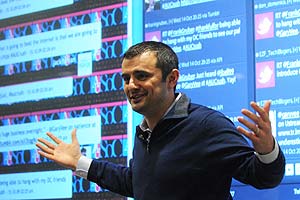 If he had his way, Gary Vaynerchuk might still be answering questions from the hundreds of AU students who turned out to hear him speak last night.
Eventually, his PR rep was able to drag him away, but no worries: if you ever have a question for the man who turned his father's small retail wine shop into a multimillion dollar business empire, just join his Facebook group, hit him up on Twitter, follow him on Tumblr, or check out his video blog at Wine Library TV.
Vaynerchuk built his reputation—and his bank account—by using online social media to connect with his customers in an intensely personal way, and those who attended the Oct. 14 event saw why fame has followed business success so quickly. Part wine enthusiast, part showman, part social media guru, part self-promoter, part motivational speaker, part kid-from-Belarus-with-a-chip-on-his-shoulder, and all entrepreneur, Vaynerchuk's in-your-face personality has catapulted him from obscurity to an internationally known one-man brand.
"You can't build a business or brand in three days, three months, or even three years sometimes," said Vaynerchuk, whose energy and colorful vocabulary seem endless. "The biggest problem people have today is they don't want to do things for the process, they want the glory or the cash. The payoff needs to be the process. In this society we work so much, that if you're working in something you don't like, you're an idiot."
Vaynerchuk's catchphrase, "Crush It!" is the title of his first book, which hit stores earlier this week. It's the first of a 10-book deal for a man who used video blogging to transform his family wine shop in New Jersey into a $60 million online business.
"Content is king. People are like, 'Oh, you were an early adopter of video [blogging], that's why you won,'" said Vaynerchuk, who began Wine Library TV in 2005. "I'm like, fool, if I started Wine Library TV tomorrow, I would win in six weeks. If a tornado comes Wizard of Oz-style and picks me up and lands me somewhere in Brazil, I'm going to start over, and I'm going to dominate. If you've got the chops, it doesn't matter if it's Friendster, or MySpace, or Twitter, or the next thing. You're going to win."
Vaynerchuk's brash style sets him apart, and it was a hit during last night's event, cosponsored by the Kogod School of Business and School of Communication. More than 400 Tweets were posted at hashtag #AUCrush over the course of the program, which also was Webcast live.
When Gary Vee, as he's known, railed, "I love the fact that I didn't have to go to L.A. to get discovered. The gatekeepers are gone," an avalanche of Tweets immediately followed.
Vaynerchuk embraced Twitter in 2006, years before it went mainstream. He's now investing in other social media companies and is a firm believer that the future lies online. The gatekeepers, as he calls cable TV companies, record labels, some PR firms, and anyone else who separates content producers from consumers, are dead.
"Ninety-nine percent of you, including myself, we are massively underestimating the Internet," he said. "The Internet hasn't even had sex yet. It's like 14 years old. It's laughable that anybody would debate it's not going to be the only platform.
"Screw the printing press," he said. "This is so much bigger."