Environment
Former NJ Governor: Slashing EPA Won't Balance Budget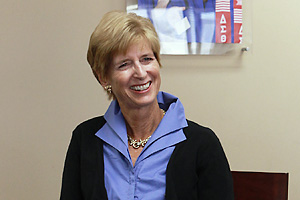 With news Monday that the nation's pristine, AAA credit rating is in jeopardy, former Environmental Protection Agency (EPA) administrator Christine Todd Whitman said the agency "is under siege," as legislators look to rein in more than $14 trillion in debt.
"The message we're getting from Congress is that we don't need these protections anymore, that focusing on the environment hampers economic growth," said Whitman, who led the agency from 2001 to 2003. "But, in fact, the environment desperately needs a healthy economy and economies don't grow the way they could or should if the population doesn't have access to clean air and water and a healthy lifestyle.
"It's not an either/or — we have to do both."
The former governor of New Jersey spoke at AU April 18, during an event hosted by the School of Public Affairs' Center for Environmental Policy. During her 45-minute talk, Whitman, president of the Whitman Strategy Group, a consulting firm specializing in energy and environmental issues, stressed that slashing EPA's budget will compromise the environment — and will have little impact on the nation's bottom line.
"The trouble with the EPA is that you're asking people to change behavior or spend money on a problem they may or may not see. We've made a lot of progress, but that can be reversed pretty fast . . . people need to understand they have a vested interest in the environment," she said.
"The big money is in Medicare, Medicaid, Social Security, and defense. We won't gain much by picking away at EPA."
A moderate Republican, Whitman criticized President Barack Obama for "running away from environmental issues." She advocated elevating the EPA to a cabinet-level department in order to increase visibility around environmental assessment, research, and education.
"While a lot of work gets done at the grassroots level, you need people at the top saying 'yes, this is important.' We need to work both ends," she explained.
Despite her criticism of Obama and lawmakers, Whitman — New Jersey's first and only female governor — stressed public service is a noble calling.
"If you want to make a positive impact, I can think of no better way than public service. It's an incredible privilege to be a part of that process."