Arts
AU Museum Goes 'Glocal' With 5 New Exhibits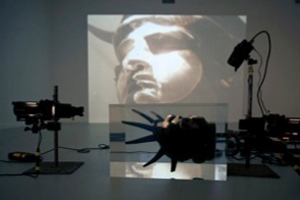 The American University Museum at the Katzen Arts Center rings in 2013 with five new exhibitions, including two one-person shows by extraordinary and provocative contemporary Russian artists, two one-person shows by major Washington artists, and a show of works by 2012 Fellows from Hamiltonian Artists, a non-profit career incubator for the next generation of contemporary visual artists in Washington, D.C.
"These new exhibitions continue the museum's focus on the international and the local," said Jack Rasmussen, director and curator of the American University Museum. "Our glocalization is appropriate for a city where the lines between global and local are often blurred."
All five exhibitions open Saturday, January 26 and close Sunday, March 17. To celebrate the new exhibitions, the museum will hold an Artists' Reception from 6 to 9 p.m. that evening. The reception, as well as the gallery talks, are free and open to the public.  
GRISHA BRUSKIN: H-HOUR
Internationally acclaimed contemporary Russian artist Grisha Bruskin's new Kafkaesque sculpture project H-Hour, an installation of disturbing, toy-like sculptures, addresses the many manifestations of hate and the anticipation of "the enemy": the hostile state; class enemy; enemy of the subconscious; "the other" as enemy; time, chronos, and death as enemies; the enemy of the human species; and so on.
Bruskin's H-HOUR opened at the Multimedia Art Museum, Moscow, and was just named one of the two winners of Russia's €40,000 (equal to $52,304) Kandinsky Prize for project of the year. Bruskin's acceptance speech was a plea for tolerance, saying that the memory of Soviet and Nazi totalitarianism should serve as a lasting warning.
While H-Hour has no specific historical or geographic ties, all of the figures–soldiers, people in gas masks, blind wanderers laden with suitcases and knapsacks, terrifying androgynes, mythological guardian creatures–are in one way or another related to the artist's personal experiences.  
Bruskin's concerns are how the trivial is made sacred, how strong the hypnotic power of art—and the image in general—really is, and how depiction can become an instrument for manipulating human consciousness. To that end, the sculptures in H-Hour, were inspired in part by Bruskin's reinterpretation of images found in mass culture products designed to influence the public—perhaps most notably, images used in civil defense posters and publications Bruskin recalls viewing as a child.
"H-Hour is a parable about the enemy, manifested in absurd metaphors. Just as in the civil defense posters, H-Hour exists in an emergency situation," Bruskin said of the exhibition. "According to Giorgio Agamben, when the boundary between law and life is lost, both are lost, and the strange world of the state of exception arises, where law is superseded and human life turns into pure 'biology', under the supervision of the expert bio-powers. In our times (the struggle against the enemy and, primarily, against international terrorism), the state of exception is no longer an exception but becoming the norm everywhere, including democratic countries. It is becoming routine. Today, arriving in Moscow or New York, the world seems to me in both places as it did when I was a child staring at civil defense posters, with the horror and stupor of an 'outsider'."
The exhibition is travelling from the Multimedia Art Museum in Moscow, and is courtesy of Marlborough Gallery, N.Y. 
ANDREI MOLODKIN: CRUDE
Opening at the American University Museum at the Katzen Arts Center the week of President Barack Obama's second-term inauguration, Russian-born Andrei Molodkin's exhibition CRUDE presents a politically provocative body of work that centers on the doctrine of Liberty in contemporary global politics.

On display will be Molodkin's series of factory-made acrylic sculptures through which crude oil is pumped via an ironic re-appropriation of technology used by the oil industry at-large, as well as his large-scale canvases executed in ball-point pen.
At a time when two wars rage on in Iraq and Afghanistan, Molodkin uses hollow acrylic forms (iconic shapes or words) through which crude oil is pumped to remind us, not only of the cost of those wars, (blood), but also of their motives and origins, (oil), and the greed that consumes the hunt for both.  
CRUDE is Molodkin's first exhibition to show in Washington, D.C.—what better a place to introduce him to an American audience and an academic community to better understand the changing role of art in an increasingly polarized political climate? From Pussy Riot to Ai Weiwei and Malevich's almost century-old idea of New Art for a New Era, Molodkin takes his place as a creative documentarian of sorts, revealing the art of our now, global era, in minimalism, but with hard, bold strokes.
For instance, the compressor-pumped acrylic sculptures, REVOLUTION, LIBERTY (HEAD), LIBERTY (HAND), and DEMOCRACY reveal a stark darkness, a severe choice to the more familiar red, white, and blue we're used to seeing accompanying these words and symbols. Molodkin often employs popular iconography to represent and deconstruct the myths surrounding such founding principles, be they set in a reactionary Russia or a United States where continued readjustment of foreign policy in the wake of energy needs is considered unprecedented. In effect, political instability, fear, desire, and resistance are the epithets of the artist's vocabulary. This is graphically spelled out in his three ambitious ballpoint canvases.
The exhibition is traveling from Station Museum of Contemporary Art, Houston Texas.
Grisha Bruskin: H-Hour and Andrei Molodkin: CRUDE were conceived in response to American University's Initiative for Russian Culture. The initiative promotes greater understanding of Russian culture's versatility and richness among all Consortium students in the Washington, D.C., area.
ANDREA WAY: RETROSPECTIVE 1982—2012
Andrea Way made her very successful and influential career in Washington, D.C., but was born in San Francisco and works in both cities.
An original and extremely influential artist, Way has been widely collected during the past 30 years, especially in Washington. Way's surfaces are beautiful and exquisitely detailed. Her process is original and idiosyncratic. She is a master of her medium, but she knows enough to let the works "breathe."
SUSAN YANERO
Susan Yanero is a Washington, D.C., artist who received her MFA in 1977 from American University. The exhibition, a collection of her recent large-scale, figurative paintings, include what Yanero refers to as "black paintings," as they are intensely personal and come from an emotionally dark place. They are, as artist and former American University art professor Alan Feltus describes, "about mysterious, ominous forces that haunt Yanero's being."
The Fellows Converge: The Obstructions
This exhibition features the works of the 2012 Hamiltonian Fellows: Amy Boone-McCreesh, Milana Braslavsky, Billy Friebele, Leonora Howell, Annette Isham, Matthew Mann, Joshua Wade Smith, Timothy Thompson, and Jerry Truong. It is collaboration with the Hamiltonian Gallery and Hamiltonian Artists. Their "post-doc" fellowship program and the professional development speaker series help artists develop entrepreneurial skills and resources to build a successful and sustainable career. The fellows developed the exhibition's theme after visiting each others' studios last summer. They agreed to challenge each other in some fashion by devising material requirements relevant to each artist's work.
Hamiltonian Fellows Mann and Isham received their MFAs from American University in 2002 and 2010, respectively.