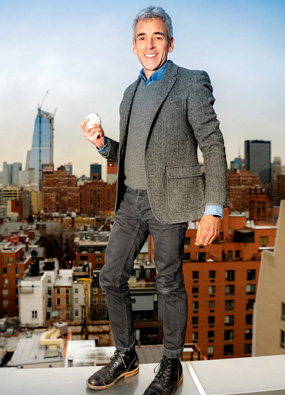 The Major League Baseball (MLB) At Bat app has a Cal Ripken-esque streak going. For six straight years (through 2014), it's been the top-grossing sports app on Apple's iTunes store. While he's not quite as famous as the Iron Man, Adam Ritter has played a crucial role in MLB Advanced Media's success. 
When he joined the company, owned by each of MLB's 30 clubs, in 2005, the idea that fans would be able to follow games in real time—let alone watch them live—on their (then mostly flip-style) cell phones was laughable. But Ritter, 52, has always been blessed with foresight when it comes to technology. 
A restauranteur in his native Philadelphia after graduating from AU, he sold his eateries in 1998 and headed to New York when "I saw this Internet thing starting to gain steam." After a stint at a startup, Ritter joined MLB Advanced Media. Baseball was the first major sport to understand the potential of the Internet. It streamed the first professional sporting event online in 2001, and when the iTunes store launched in 2008, At Bat was one of the first 500 apps available. 
Now, MLB Advanced Media has expanded beyond the baseball diamond, streaming live and video-on-demand content for HBO. Ritter, senior vice president of wireless, and his team also built World Wrestling Entertainment's over-the-top network, and in January began delivering the National Hockey League's mobile apps and subscription video products. But his eye has remained primarily on baseball. Specifically, on trying to anticipate the next medium on which the sport will be able to deliver its content. 
"How will wearables resonate with consumers?" says Ritter, who's always worked in managerial roles but has picked up technological know-how along the way. "The opportunities for baseball to use the mobile device as a utility device for buying tickets, to get into the ballparks, to order food and beverage are there. We do all of these things today, but the future is about even more adoption."