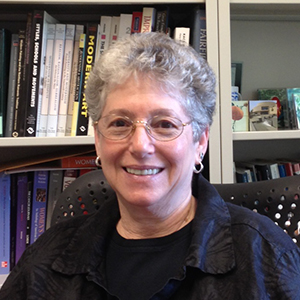 Helen Langa
Associate Professor
Department of Art
Additional Positions at AU

Affiliate Faculty, Department of History

Professor Helen Langa teaches a sequence of courses on American Art from the colonial era to the late 20th century with an emphasis on issues related to national identity, politics, race, gender, and cultural studies. She was Chair of the Art Department (Art History, Graphic Design, and Studio Art) from 2008-2010 and Director of the Art History Program (BA and MA) from 2008 to spring 2014. Seminar topics have included Transnational Issues in American Art 1890 to 1970, Shaking Things Up: The Politics of Identity in American Art 1960-1998, and Postmodernism since 1980: Controversial Art and Museum Responsibilities. Her scholarly research emphasizes the work of American women artists and representations of women between 1900 and the 1940s; leftist interests in labor, gender, racial equality, and social change in 1930s art; and the pre-Stonewall history of American lesbian/gay/queer identity and visual representation. Her book Radical Art. Printmaking and the Left in 1930s New York was published in 2004. Two recently published articles are "Seeing Queerly: Lesbian Presence and Absence in American Visual Art, 1890 to 1950," in the Journal of Lesbian Studies (2010), and "'At least half the pages will consist of pictures': New Masses and Politicized Visual Art" in American Periodicals (2011). Her anthology, co-edited with Paula Wisotzki, titled Transitional Generations. American Women Artists 1935 to 1970 is currently under contract with Ashgate Press.

Degrees

PhD, Modern and American Art, University of North Carolina, Chapel Hill
MA, Baroque Art, University of Colorado-Boulder
BFA , Tyler School of Art, Temple University
Loading ...

OFFICE

CAS - Art
Katzen Arts Center - 233
TF 3:00-4:00 walk in, T 5:15 to 6:15 and W 10:00 to 3:00 by appointment
FOR THE MEDIA

To request an interview for a
news story, call AU Communications
at 202-885-5950 or submit a request.
---
AU Expert
Area of Expertise: American painting and prints of the 1930s, American art from 1700 to the present, art history and antiracist activism, feminism and gender studies, gay/lesbian and queer history, postmodernism, postcolonialism

Additional Information: Helen Langa published Radical Art: Printmaking and the Left in 1930s New York in 2004 and has written articles on women artists, lesbian artists, labor imagery, and antiracist art. Her current research and publications focus on lesbian/queer artists in the United States and on issues of gender and race in U.S. art from 1890 to 1970.
 
Media Relations
To request an interview please call AU Media Relations at 202-885-5950 or submit an interview request form.