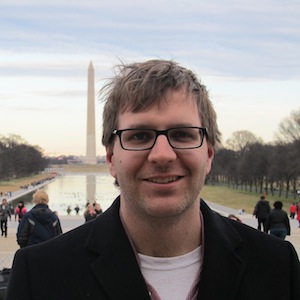 Justin Jacobs
Assistant Professor
Department of History
Justin Jacobs is a historian of modern China. His research explores the transformations and legacies of the Chinese empire during the twentieth century. His first book project, "China Preserved: The Pursuit of Political Legitimacy in Modern Xinjiang," looks at how Han rulers responded to allegations of Chinese colonialism in the Muslim northwest. He teaches courses on modern Chinese history, East Asian civilization, and the cultural politics of archaeology ("Indiana Jones in History").

Degrees

PhD, University of California, San Diego
MA, University of Washington
BA, University of Washington
Loading ...

OFFICE

CAS - History
Battelle Tompkins - 153
T/F 12-1 and 2:30-3:30 and by appointment
FOR THE MEDIA

To request an interview for a
news story, call AU Communications
at 202-885-5950 or submit a request.
---
Teaching
Spring 2013

HIST-296 Selected Topics:Non-Recurring: China in Foreigners' Eyes

HIST-299 Conversations in History: Indiana Jones in History
Fall 2013

HIST-250 Empires & States in East Asia

HIST-396 Selected Topics:Non-Recurring: Modern China
Scholarly, Creative & Professional Activities
Selected Publications
"Cultural Thieves or Political Liabilities? How Chinese Officials Viewed Foreign Archaeologists in Xinjiang, 1893-1914," Silk Road 10 (2012): 117-22. 
"Preparing the People for Mass Clemency: The 1956 Japanese War Crimes Trials in Shenyang and Taiyuan," China Quarterly 205 (March 2011): 152–72.
"The Many Deaths of a Kazak Unaligned: Osman Batur, Chinese Decolonization, and the Nationalization of a Nomad," American Historical Review 115, no. 5 (December 2010): 1291–1314.
"Confronting Indiana Jones: Chinese Nationalism, Historical Imperialism, and the Criminalization of Aurel Stein and the Raiders of Dunhuang, 1899–1944," in China on the Margins, ed. Sherman Cochran and Paul G. Pickowicz (Ithaca, NY: Cornell University Press, 2010), 65–90. 
"How Chinese Turkestan Became Chinese: Visualizing Zhang Zhizhong's Tianshan Pictorial and Xinjiang Youth Song and Dance Troupe," Journal of Asian Studies 67, no. 2 (May 2008): 545–91.
Honors, Awards, and Fellowships
Fulbright-Hays Doctoral Dissertation Research Abroad Fellowship
Jacob K. Javits Fellowship
Foreign Language and Area Studies Fellowship (Chinese, Uighur)
Work In Progress
Book Manuscript: "Empire Preserved: The Pursuit of Han Colonial Legitimacy in Xinjiang, 1911–1964"
AU Expert
Area of Expertise: modern Chinese history, Xinjiang Province, minority governance in China

Additional Information: Justin Jacobs is interested in how the multiethnic peoples of China became incorporated into a Han-dominated state during the twentieth century. For his dissertation, he conducted a year of field research in China, Taiwan, and the mostly Muslim province of Xinjiang, supported by a Fulbright-Hays fellowship. He is the author of three peer-reviewed articles on modern Xinjiang, and has also written on Japanese war crimes trials in China during the early Mao years. He teaches courses on Chinese, Japanese, and Inner Asian history.


Media Relations
To request an interview please call AU Media Relations at 202-885-5950 or submit an interview request form.
---