Alumni
JFK at AU: University Commemorates 50th Anniversary of Historic Speech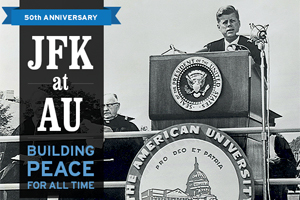 "I have [therefore] chosen this time and this place to discuss a topic on which ignorance too often abounds and the truth is too rarely perceived—yet it is the most important topic on earth: world peace."
These were the words of President John F. Kennedy on the occasion of American University's commencement exercises in June of 1963. The nation's Commander in Chief visited campus to congratulate AU's graduates, to encourage them to serve as agents of peace, and to announce that the United States would stop testing nuclear weapons and work for a comprehensive ban treaty.
During the speech, one of Kennedy's most famous, the president announced that the Soviets had expressed a desire to negotiate a nuclear test ban treaty and that the U.S. had postponed planned atmospheric tests. Just months earlier, in October 1962, the Cuban Missile Crisis, a 13-day confrontation between the U.S. and the Soviet Union and Cuba, had brought the world closer to nuclear war than any in our history. On the heels of those uneasy moments, Kennedy's address offered hope to the world. Written by long-time advisor Ted Sorensen, it was considered groundbreaking in its pursuit of global peace. 
"A Strategy of Peace" is remembered as one of the finest and most inspiring commencement addresses ever delivered. Kennedy's words ring as true today as they did 50 years ago as we continue building peace for all time.
This year, AU celebrates the 50th anniversary of Kennedy's speech and the profound impact it had on the university and the wider world. A series of events will mark the anniversary. We invite you to explore our special website focused on the anniversary, learn about the importance of the speech then and today, participate in upcoming events, and share your thoughts through our Twitter hashtag #AUJFK50.