2014 Award Winners
The College congratulates 2014 Robyn Rafferty Mathias Student Research Conference award winners, including Best Professional Presentation by a Graduate Student, jointly awarded:

Anila D'Mello, PhD Candidate, Behavior, Cognition, and Neuroscience:
Cerebellar Grey Matter Correlates with Early Language Delay in ASD

Anna Kaplan, PhD Candidate, History:
Between a Rock and a Hard Place:
Untold White Desegregation Narratives from Oxford, Mississippi
Conference Overview

The annual College of Arts and Sciences student research conference, now in its twenty-fourth year and funded in part by a generous grant from Robyn Rafferty Mathias, an AU trustee and alumna, provides a competitive forum for CAS undergraduate and graduate students to present their original creative works before colleagues, friends and faculty — see the 2014 Conference Program.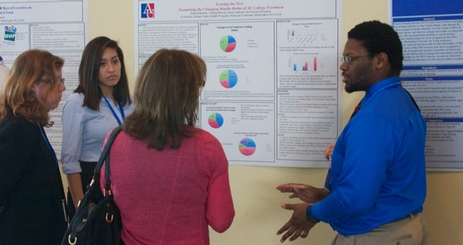 Accepted student works

Paper Presentations
You are allotted 12 minutes to present your material followed by 3-5 minutes for responding to questions from the audience. Your presentation should follow the format laid out in your abstract or project description. Please ensure that you are aware of and have incorporated any discipline-specific style or delivery requirements. Regardless of your field, you need to clearly outline the objective of your project, discuss how you pursued/accomplished it, and interpret the significance of your results.
Your presentation will be judged on its intellectual and/or creative ambition and the strength of the arguments and conclusions you make. Judges will evaluate whether your project is engaging and how successful you were in achieving your goals. Because of the diverse nature of the audience at the conference you will also be judged on your ability to make your work accessible to a general audience, to explain unfamiliar terms, and avoid jargon.
Performance
Your presentation may not be longer than 12 minutes and it should have two parts. In the first part, please spend several minutes providing an analytical overview in which you describe what makes your performance unique or how your performance addresses matters of social, intellectual, or artistic significance. The second part will be the actual performance. After you have completed your performance there will be 3-5 minutes for responding to questions from the audience.
Your analytical overview will be judged on its intellectual ambition, its creative ambition, its placement of your work in some context, and its ability to qualify claims in key places and to address likely objections. The content of your performance will be judged for whether the performance is engaging, formally interesting, and delivers on the claims made in the analytical overview. The presentation itself will be judged on your ability to explain unfamiliar terms and to avoid the obvious, on your ability to ensure audience comprehension and to generate audience interest, and on the quality of your self-presentation.
Posters Presenting Original Research
Your research will be judged on your intellectual ambition and on whether you i) make an original argument, ii) clarify your originality by accurately surveying the literature on the subject, iii) provide persuasive evidence for your claims, and iv) qualify your claims in key places and address likely objections. The poster will also be judged on its presentation of information. The poster should demonstrate knowledge of its audience, explaining unfamiliar terms and avoiding the obvious. The presentation of information should be well organized, with new points flowing logically from the previous. The poster should be graphically clear, uncluttered, and attractive to the eye. Posters may be up to 36" wide and 48" tall.