Alumni
Regional Alumni Show Spirit of Service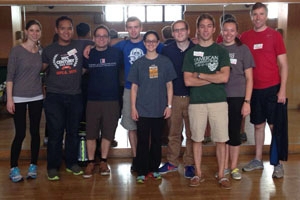 "Ideas into action, action into service" has long been a proud motto for AU students. The alumni they become are no less committed to social action. This fall, regional alumni chapters across the country are planning and participating in service days, each tailored to the chapter's city and community. Chapters enjoyed the flexibility of selecting a service organization and project that best fit the needs and interests of their constituents.
The New York City Young Alumni Chapter kicked things off with their service day in September, at the East 54th Parks and Recreation Center. Working with Kids Enjoy Exercise Now (KEEN), AU volunteers spent an afternoon playing and exercising with physically and developmentally challenged children.
"It was a really wonderful experience," noted Ashley Rose Stumbaugh, Kogod/BSBA '12, the social media manager for the New York City YAC. "KEEN is a fantastic organization which provides an afternoon of play for children with disabilities. Our AU volunteers all seemed to jump right in and have a blast playing basketball, tag, and arts and crafts with the kids."
Early this month, volunteers from the Dallas Alumni Chapter spent a morning at the North Texas Food Bank, where they sorted and packed food for distribution to agencies throughout north Texas. "The volunteer experience at the North Texas Food Bank was exhilarating!" said Dallas chapter co-leader Shannon Morales, SIS/MA '97. "It was very rewarding to work alongside fellow alumni and other volunteers on something with such direct, tangible effects in our community. Our two-hour shift alone assembled the equivalent of 14,700 meals!"
On November 16, the Boston Alumni Chapter volunteered for Cradles to Crayons, an organization committed to providing life's essential goods to homeless and low-income children. Volunteers spent the morning preparing "KidPacks" - packages including everything from clothing to batteries. The Philadelphia Alumni Chapter will combine socializing with service on November 21, when they will collect Thankgiving-themed food for Philabundance, an area food bank, at their fall happy hour event.
Alumni in both San Francisco and Washington, D.C. will be volunteering on November 23. The San Francisco chapter is hosting a park clean-up day at the historic Presidio of San Francisco, while D.C. alumni can participate with Project Giveback and assemble Thanksgiving food baskets for needy families in the D.C. metropolitan area.
Don't live in one of these areas? That's okay! Gather a group of your alumni friends and create your own AU alumni service event. Wear your favorite AU swag and share on social media using hashtag #AUVolunteer!