On Campus
Movies at the Mud Box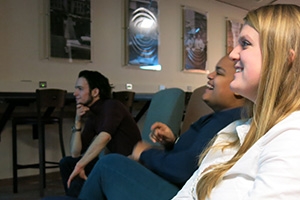 It's no secret that American University students are among the most engaged and active college students around. AU always makes (and often tops) lists of politically active student bodies. 88% of undergraduates participate in an internship and 58% study abroad. Students' daily calendars are packed with exciting speakers, meetings, and events, not to mention classes and homework. Yet even such busy students need some time to unwind!
Unfortunately, as the number of undergraduate students living on-campus has grown, opportunities for on-campus fun and entertainment have not. For the last several years, the University College (UC) Critical Approach to Cinema program has hosted a spring film series in the Mud Box, a popular café space located on the library's Lower Level. In considering students' needs for on-campus entertainment, we quickly realized that the UC program could be expanded to offer a wider range of films over a longer period of time and thus the Movies at the Mud Box idea was born.
Movies at the Mud Box will feature popular movies, including recent releases, to be screened on select Fridays, supplementing the offerings already available from UC. By providing popcorn and free movie screenings, students will have an opportunity for a relaxing study break without ever leaving campus. However, since the initiative is an addition to our planned programming, we need your help to make it a reality.
We have partnered with the American University UFUND to launch this program. The initiatives and projects in the new UFUND program have the potential to make a big impact on the quality of students' experience at AU—and the fundraising goals are achievable.
For the price of a movie ticket, alumni, parents, faculty, staff, and friends of AU can help provide a fun, free, safe, on-campus study break for students. We only have until January 27, 2014 to make our UFUND goal—so consider giving a gift to Movies at the Mud Box today! Gifts of any amount are appreciated. 
Follow the progress of our campaign on social media using #AmericanUFUND and #MoviesattheMudBox.