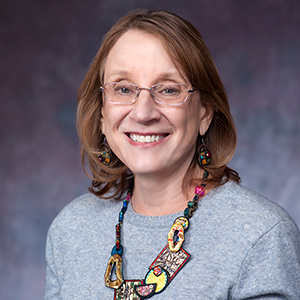 Barbara Bird
Professor
Department of Management
Professor Bird's research interests include entrepreneurial cognition and entrepreneurial behavior. She has research projects examining new venture liabilities of newness and strategic alliances. She authored Entrepreneurial Behavior and several scholarly journal articles in Academy of Management Review, Organization Science, and Journal of Applied Psychology. She is past chair of the Entrepreneurship Division of the Academy of Management and currently serves as Historian. Her travels have taken her to EU, Brazil, Peru, China, Turkey and Syria.

Degrees

B.A., psychology, Fresno State College; M.A., social psychology, University of Western Ontario; Ph.D., University of Southern California
Loading ...

OFFICE

KSB - Management
Kogod - 216
M TH 9:30-11, 12:45-2 and by appointment after 3:30 on M and TH as well as other times
FOR THE MEDIA

To request an interview for a
news story, call AU Communications
at 202-885-5950 or submit a request.
Scholarly, Creative & Professional Activities
Honors, Awards, and Fellowships
Professor Barbara Bird's co-authored paper "The Practical Intelligence of High Potential Entrepreneurs: Antecedents and a Link with New Venture Growth,"  was awarded an IDEA Award:  2008 Entrepreneurship, Theory & Practice Best Conceptual Paper by the Academy of Management.
AU Expert
Area of Expertise: Entrepreneurship (thinking styles, behavior, competencies, management, human resources, business plans); leadership; women entrepreneurs; entrepreneurial intuition and expertise, competition cognitions, organizational behavior; creativity in organizations

Additional Information: Barbara J. Bird serves as associate editor of Entrepreneurship Theory and Practice. She is currently leading efforts to find common terms and measures for entrepreneurial behavior, including delivering the keynote address at Gateway 2010 (St. Louis) and editing a special issue of Entrepreneurship Theory and Practice on the topic. Her research also focuses on the behavior, intelligence, and other thought patterns of entrepreneurs including a paper in Personnel Psychology (with R. Baum), "Practical intelligence of entrepreneurs: Antecedents and a link with new venture growth," and in Organization Science (with R. Baum), "The successful intelligence of high growth entrepreneurs: Links to new venture growth." She has served as business specialist (reviewing business plans) for the Advanced Technology Program of the National Institute of Standards and Technology (NIST) and on the Small Business Innovation Research Project for the National Science Foundation. Her current work includes analysis of the NIST data collected and focuses on liabilities of new organizations and strategic alliance changes in these high-technology projects.

Media Relations
To request an interview please call AU Media Relations at 202-885-5950 or submit an interview request form.