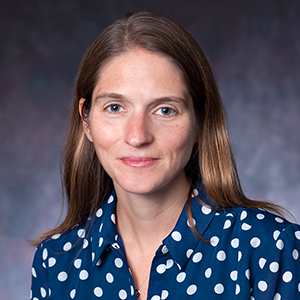 Sarah Snyder
Assistant Professor
School of International Service
Sarah B. Snyder is a historian of U.S. foreign relations and specializes in the history of the Cold War, human rights activism, and U.S. human rights policy. Her book, Human Rights Activism and the End of the Cold War: A Transnational History of the Helsinki Network, (Cambridge University Press), analyzes the development of a transnational network devoted to human rights advocacy and its contributions to the end of the Cold War. The Society for Historians of American Foreign Relations awarded it the 2012 Stuart Bernath Book Prize by for best first book by an author and the 2012 Myrna F. Bernath Book Award for the best book written by a woman in the field in the previous two years. Her second book, Human Rights Before Carter (under contract with Columbia University Press) explores the development of U.S. human rights policy during the long 1960s. In addition to authoring several chapters in edited collections, she has also published articles in Diplomatic History, Cold War History, Human Rights Quarterly, Diplomacy & Statecraft, Journal of Transatlantic Studies, and Journal of American Studies. She previously served as a Cassius Marcellus Clay Postdoctoral Fellow in the Department of History at Yale University, the Pierre Keller Post -Doctoral Fellow in Transatlantic Relations at the Whitney and Betty MacMillan Center for International and Area Studies also at Yale, and as a professorial lecturer at Georgetown University. She received her Ph.D. from Georgetown, a M.A. from University College London, and a B.A. with honors from Brown University.

Degrees

PhD, Georgetown University; MA, SSEES, University College London; BA, Brown University
Loading ...

OFFICE

SIS-School of Intl Service
SIS 342 Tuesdays, 2-5 and by appointment
FOR THE MEDIA

To request an interview for a
news story, call AU Communications
at 202-885-5950 or submit a request.
Scholarly, Creative & Professional Activities
Selected Publications
Human Rights Activism and the End of the Cold War: A Transnational History of the Helsinki Network (Cambridge University Press, 2011).
"The Rise of Human Rights During the Johnson Years," in Beyond the Cold War: Lyndon Johnson and the New Global Challenges of the 1960s, ed. Francis J. Gavin and Mark Atwood Lawrence, (Oxford University Press, 2014).
"Human Rights in the Cold War," in The Routledge International Handbook of the Cold War, ed. Artemy Kalinovsky and Craig Daigle, (Routledge, 2014).
 "Beyond Containment?: The First Bush Administration's Sceptical Approach to the CSCE," Cold War History 13:4 (November 2013): 463-484.
 "'A Call for U.S. Leadership': Congressional Activism on Human Rights," Diplomatic History 37:2 (April 2013): 372-397.
"Bringing the Transnational In: Writing Human Rights into the International History of the Cold War," Diplomacy and Statecraft 24:1 (March 2013): 100-116.
 "Human Rights and U.S. Foreign Relations: A Historiographical Review," in Passport (Society of Historians of American Foreign Relations Newsletter, April 2013).
"Exporting Amnesty International to the United States: Transatlantic Human Rights Activism in the 1960s," Human Rights Quarterly 34:3 (August 2012): 779-799.
"'Promising Everything Under the Sun': Helsinki Activism and Human Rights in Eastern Europe," in The 'Establishment' Responds: Power and Protest During and After the Cold War, ed. Kathrin Fahlenbrach, Martin Klimke and Joachim Scharloth, (Palgrave Macmillan, 2012).
"Principles Overwhelming Tanks: Human Rights and the End of the Cold War," in The Human Rights Revolution: An International History, ed. Akira Iriye, Petra Goedde, and William Hitchcock, (Oxford University Press, 2011).
"The Defeat of Ernest Lefever's Nomination: Keeping Human Rights on the United States Foreign Policy Agenda," in Challenging US Foreign Policy: America and the World in the Long Twentieth Century, ed. Bevan Sewell and Scott Lucas, (Palgrave, 2011).
 "The Foundation for Vienna: A Reassessment of the CSCE in the mid-1980s," Cold War History 10:4 (November 2010): 493-512.
"Through the Looking Glass: The Helsinki Final Act and the 1976 Election for President," Diplomacy and Statecraft 21:1 (March 2010): 87-106.
 "The CSCE and the Atlantic Alliance: Forging a New Consensus in Madrid," Journal of Transatlantic Studies 8:1 (March 2010): 56-68.
"'Jerry, Don't Go': Domestic Opposition to the 1975 Helsinki Final Act," Journal of American Studies 44:1 (February 2010): 67-81.