Korea University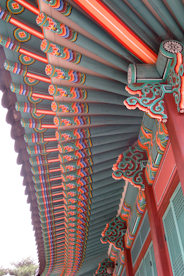 The Graduate School of International Studies (GSIS) at Korea University (KU) offers one of the leading international relations programs in Korea and Asia. Its curriculum emphasizes interdisciplinary studies as part of the school's commitment to multi-cultural awareness and promoting international interaction. KU, through the GSIS, has joined AU and SIS to offer a Dual Master's Degree Program (DMDP) through which students can take advantage of the numerous opportunities offered at both schools. Study with the top experts in your field and gain a new perspective on international relations from the Korean Peninsula.

Course Work
Graduate students can choose one of two programs of study in the GSIS, depending on their field of interest. In either program, students spend their first year as full-time students in SIS studying in virtually any of the SIS major fields, and then spend their second year studying as full-time students at KU. Up to fifteen (15) of the course credits taken at KU in this second year can be applied toward the SIS degree. Research requirements for each degree must be completed separately as these credits are not transferable to fulfill the respective institution's research degree requirements. The available programs of study are as follows:
International Studies, which incorporates a variety of socio-political and economic perspectives and includes the following major tracks:

International Commerce
International Development and Cooperation
International Peace and Security
Regional Studies

Korean Studies, which focuses on Korea, contemporary social modernization, and economic development.
Language Requirement
The GSIS curriculum is taught entirely in English. Students wishing to improve their Korean language skills may enroll in Korean language classes. 
Academic Calendar
Fall semester: August/September-December
Spring semester: March-June

Although the academic calendar in Korea begins in March, DMDP students will join Korea University after a full year in SIS and begin classes at KU in the Fall semester (August/September).

Registration
During the first year at SIS, students register with the advice of their academic advisor to ensure that they will be able to complete all SIS core requirements prior to leaving for KU. In the second year, the following process will be followed:
Students are registered through the SIS Office of International Programs for nine (9) AU-KU exchange credits (SIS-697) in the Fall and six (6) AU-KU exchange credits (SIS-697) in the Spring. These exchange credits cover courses at KU only; research and/or internship credit is registered under normal AU guidelines.
Students are required to meet with their AU academic advisor and obtain formal pre-approval before enrolling at KU. This ensures that credits earned at KU can be applied toward the student's AU degree.
Students register for classes with the Program Manager at KU once they arrive on campus for orientation.
Credit articulation: Grades and credits earned at KU are articulated at AU upon receipt of an official transcript from KU. For conversion purposes, students should expect 1 KU credit to equal 1 AU credit.

Tuition and Fees
While at AU, students will be billed according to the tuition and fee schedule published by the University.
While at KU, students pay regular tuition, emergency international health insurance, and technology fees to AU. Students do not pay student activity fee, sports center fee, or SIS fee. Students also pay the recreation and activity fees to KU. 

Students are responsible for any incidental costs, such as library fines and lab fees, incurred during the program. Students are responsible for all personal expenses including housing and transportation. Students will pay KU for the Academic Association of International Relations fee and the Autonomous Association of the Graduate Students fee.

Housing
There is limited housing available to graduate students KU. Students who wish to live on campus should contact KU directly for information on availability, application, and pricing.

Visa and Immigration
Once admitted the DMDP, students are issued a Certificate of Eligibility by KU. Students take this document to the closest Korean Embassy to apply for a student visa. Students need to take the Certificate of Eligibility, passport, bank statement, visa application, and application fee to the Embassy. 
Students are responsible for researching the most up-to-date immigration requirements and arranging all immigration documents. 

Student Orientation
During the semester prior to the start of the program, the SIS Office of International Programs conducts a mandatory pre-departure meeting. Topics covered include administrative, logistical, security, health, and cross-cultural issues. KU will hold an orientation for all international students upon arrival in Korea.
How to Apply
1. Once an applicant is approved by SIS, s/he is directed to the on-line application for KU. Additional documents will be required to complete the application packet. All materials are submitted to the Office of International Programs for review.
2.It is in the student's best interest to meet with the Program Manager early for application instructions.