CONTACT US
Interested in working with our students and faculty? 
Send us your inquiry at: tomasko@american.edu
Are you interested in creating social impact?

Join the Social Enterprise Program at the School of International Service (SIS) to:

Engage with other activist students who prioritize social impact over personal gain
Learn social entrepreneurship outside of a commerce-focused MBA program
Gain a global perspective by earning a Masters degree in Social Enterprise from a top ranked international relations school
Create a customized specialization from courses taught throughout the university
Study in a practitioner-oriented, real-world based program aimed at doers, not scholars
Build your professional network by being based in Washington DC, a city with a large and vibrant social enterprise sector

The Program is intended to support SIS students who want to become social entrepreneurs, intrapreneurs or infrapreneurs. They drive societal change by providing innovative, economically sustainable solutions to public problems.

Build a Masters Degree around your passions

This is not a slogan; it's the organizing principle of our Program.  The Social Enterprise Masters is designed to serve as a flexible incubator or accelerator for your ideas and plans.   It does this in two ways:

You have freedom to choose 6 courses (almost half

 

of those required for your Masters) around your personal interests.  This gives you an opportunity to explore the many facets of this rapidly evolving field using courses from across the graduate programs of American University.  Or you can use this flexibility to deeply immerse yourself in a specific subject, region, or technique, and create your professional identity around it.

Most Social Enterprise courses and your Capstone Practicum involve real world projects, and many of these are about issues, people, and organizations you select. Some of our students connect these projects to jobs or internships; others use them as steps toward launching or growing a venture.

Watch our videos and talk to our students and alums about how they've done this. Everyone's story is different.

Stay Informed

Subscribe to the Social Enterprise listserv (SE-L).

Read the SE Newsletter

Follow us on Twitter, Facebook and LinkedIn.

 
Fall 2015 Newsletter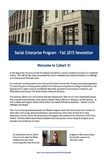 Alumni Spotlight

Read Kate McElligott's story to learn about the SE experience

Join SE LinkedIn group
Visit our LinkedIn group page to connect with social enterprise practitioners who are the SE alums, affiliates, faculty and current students.