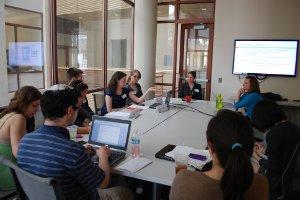 Research is an integral aspect of the SIS undergraduate experience, and presenting research at an academic conference is an excellent way to meet other researchers exploring similar topics, to engage in discussion and debate, and to learn from others.  If you have a research project that you are proud of and would like to share with the SIS community, then the 17th Annual SIS Undergraduate Research Symposium is the event for you!  Join us for an evening of enriching, educational exchange where you will receive constructive feedback, learn about other international issues, and gain exposure to presenting in a professional setting.
The Symposium is a great opportunity for you to receive feedback on you research from expert SIS faculty members and advanced degree candidates. The best research projects and presentations will be recognized with distinction and awards. You may chose to give an oral presentation or a poster presentation. The 2015 Undergraduate Research Symposium will be held on Friday, April 24, in the SIS Abramson Family Founder's Room and the SIS Atrium.
Please email any questions to sisugsymposium@american.edu.
Please visit the SIS Undergraduate Research Facebook Page

Congratulations to the prize winners of the 17th Undergraduate Research Symposium.

Best Paper: Amanda Brenner

Best Oral Presentations: Priyanka Srivinasa

Best Poster Presentation: Mildred Miranda-Cruz