Communications
American University Game Lab Levels Up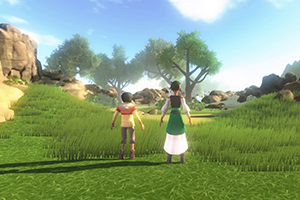 As it graduates its first class of students May 7, with only two years under its belt, American University's game design master's program is ranked 22nd in the world by Princeton Review and number 13 in Animation Career Guide's ranking of all games programs on the East Coast. 
It's easy to see why:
AU Game Lab collaborated with the Smithsonian American Art Museum on a pop-up arcade event attracting more than 11,000 visitors, making it the fourth largest event in its history.
Three Game Lab students and Director Lindsay Grace presented findings from the JoLT initiative in game design and disruptive media leadership on a panel at Game Developers Conference (GDC), bringing the total number of Game Lab student GDC presentations to five.
Faculty published more than 20 articles, including two best paper nominations.
Faculty participated in more than 40 presentations, including talks, keynotes and panels around the world.
The Game Lab Studio signed over $470,000 in contracts with National Institute for Mental Health, Educational Testing Service and other partners.
Six students have paid internships or part-time positions in games.
AU's program offers a unique blend of industry-standard skills underpinned by a focus on persuasive play.
Among those skills are Unity 3D programming and level design, Construct 2 game making, 3D Studio Max and Blender 3D Modeling and Animation. Students also develop independent game making skills, game design ideation, rapid prototyping, and project management.
Students then apply their mastery of these fundamental techniques to transform players' interests, activities, or opinions into meaningful action.
Students who pursue the master's degree at AU also go beyond traditional game design and development by learning to tailor play design to meet specific goals in player impact, and assess that impact. During the second year of the degree program, students intern at the AU Game Lab Studio and build a professional portfolio by working on real-world projects for external clients.
A few examples:
News Park, developed by Joyce Rice, Cherisse Datu, and Kelli Dunlap as part of the JoLT initiative, is aimed at establishing formal "news dialogues" in today's new commons, the pilot debuted at the Newseum and looked at the issue of water consumption through food choices, challenging players to construct meals using the least water possible.
In Hold On, created by Austin Branion, Ethan Goss-Alexander, CY Yin, and Aubrey Hill, players cling to what they hold dear as war tears them apart. As they try to protect the pieces of their life, forces beyond their control seek to rend these pieces from their care and destroy them. Players must decide what to save, realizing that if they try to save everything, they can hold on to nothing.
Homebound, developed by Nnamdi Okpuzor, is a 3D adventure exploration game featuring a brother and sister traveling across a fantastical land where everything is new to them.
Game Lab has also established itself as an innovative and inclusive community. When Al Jazeera was doing a story on the rise in female professional gamers, they came to Game Lab professors Ben Stokes and Chris Totten and student Kelli Dunlap. Compared to an industry that is 89 percent male, the AU cohort has one of the best gender ratios in the country – it's 58 percent female. Students come from across the United States, and Africa and South America and have an array of educational backgrounds including PsyD, PhD, MA, BA, BS. Game Lab has hosted two diversity summits focused on joining the industry to impel a change so that the demographics of game designers and developers better reflect the diversity of the players.
AU's location in the nation's capital allows for unique partnerships and collaborations with cultural institutions and governmental agencies that have national impact.
The program is offered through a partnership between AU's School of Communication and the College of Arts and Sciences.