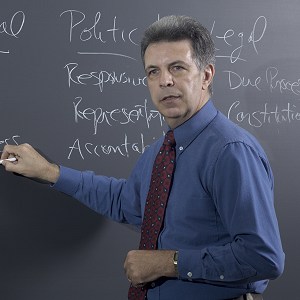 Robert Durant
Professor
Department of Public Administration and Policy
Professor Durant's teaching and research focus is executive branch politics, public management, policy implementation, environmental policy, and administrative reform. He has received seven book awards, two best article awards, and the prestigious Charles H. Levine Memorial Award for excellence in research, teaching, and service to the wider community. In addition, he has won seven teaching awards including the 2007 Outstanding Teaching Award in the School of Public Affairs and the Leslie A. Whittington Excellence in Teaching Award from the National Association of Schools of Public Affairs and Administration. He is also on the editorial boards of ten disciplinary journals, was a Fulbright Scholar in Thailand in 2002, and is an elected fellow in the National Academy of Public Administration. In 2011, he was named AU Scholar-Teacher of the Year. In 2012, he received the Dwight Waldo Award for outstanding contributions to the literature of public administration over an extended career. In 2013, he received the John Gaus Award for a lifetime of exemplary research in the joint tradition of public administration and political science.

Degrees

PhD University of Tennessee
MPA University of Tennessee
BA Maryville College
Loading ...

OFFICE

SPA - Public Admin and Policy
Ward - 334
FOR THE MEDIA

To request an interview for a
news story, call AU Communications
at 202-885-5950 or submit a request.
AU Expert
Area of Expertise: Presidency: federal executive branch politics and issues; public management issues in federal government; environmental and natural resources policy

Additional Information: Robert F. Durant has published extensively (more than 100 refereed articles, book chapters, and monographs), including articles in leading political science, public administration, and public policy journals. He is the author or coauthor of seven books: When Government Regulates Itself: EPA, TVA, and Pollution Control in the 1970s; The Administrative Presidency Revisited: Public Lands, the BLM, and the Reagan Revolution; Managing for the Environment: Understanding the Legal, Organizational, and Policy Challenges; Environmental Governance Reconsidered: Challenges, Choices, and Opportunities; The Greening of the U.S. Military: Environmental Policy, National Security, and Organizational Change; The Oxford Handbook of American Bureaucracy, and Intragovernmental Regulation and the Public Interest: Air Pollution Control in the Tennessee Valley. Durant received the Gladys M. Kammerer Award from the American Political Science Association for the best book published in 1992 on U.S. national policy and the 2000 Best Book Award from the Section on Public and Nonprofit Management of the Academy of Management. He received the Jeffrey Pressman Award from the Policy Studies Organization for the best article published in 1995 in the Policy Studies Review and the 1999 best article award from the American Review of Public Administration. He was recognized by the American Society for Public Administration for lifetime contributions to the research literature on environmental and natural resource policy. He is on the editorial boards of 10 academic journals, is past president of the Section on Public Administration of the American Political Science Association, and established the Paul A. Volcker Endowment for Public Service Research and Education. In 2002, he was awarded the Charles H. Levine Award from the American Society for Public Administration and the National Association of Schools of Public Affairs and Administration. The award recognizes public administration faculty for excellence in research, teaching, and service. In 2008, he was awarded the Leslie Whitington Excellence in Teaching Award. In 2011, he was named AU Scholar-Teacher of the Year. He is a member of the National Academy of Public Administration.

Media Relations
To request an interview please call AU Media Relations at 202-885-5950 or submit an interview request form.