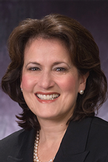 Dear friends,

Throughout our nation's history first ladies have influenced politics, domestic policy, and global diplomacy. The Legacies of America's First Ladies Conferences feature distinguished guests — White House staff, historians, authors, and First Ladies — who illuminate the significant contributions these women make toward promoting change and improving our society.
It has been my honor to direct the conference and take this important initiative on the road to the presidential libraries.

The series was launched in March 2011 at American University and led to a partnership with the National Archives, Presidential Libraries. The Library Conference Series started in Texas, the only state with three Presidential Libraries and two living First Ladies, at George Bush Presidential Library and Museum in November 2011. It then headed to Southern Methodist University, hosted by the George W. Bush Presidential Center, in March 2012. In November 2012, the Lyndon Baines Johnson Library and Museum hosted the final conference in the Texas series. On April 8, 2013, in honor of Betty Ford's 95th birthday, the Gerald R. Ford Library and Museum hosted the First Ladies in Grand Rapids, Michigan.
Conversations are underway with several other Presidential Libraries to host the Legacies of America's First Ladies Conference.
I hope you can join us at an upcoming event and hope you enjoy the information and photos we are able to share from this historic series.
Anita McBride
Executive-in-Residence at Center for Congressional and Presidential Studies and Conference Chair

America's First Ladies: An Enduring Legacy
April 8, 2013
Former first ladies Mrs. Barbara and Mrs. Laura Bush visited Grand Rapids to participate in a luncheon as part of day-long conference about the nation's first ladies. As part of the celebration of President Gerald R. Ford's Centennial Birthday and to commemorate Betty Ford's 95th birthday, on April 8, the Gerald R. Ford Presidential Foundation and Gerald R. Ford Presidential Museum hosted "America's First Ladies: An Enduring Legacy." The conference shared insight about the first ladies and how these "leaders behind the leaders" affect change and advance society in valuable ways. Read more »