Arts and Culture
Picturing Democracy
Jamin Raskin, A Portrait of Power at the Corcoran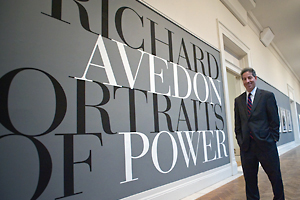 His right hand clutches a book, pen jammed in the middle, along with two journals. Wearing a dark dress shirt and striped tie, Washington College of Law professor Jamin Raskin stares into the camera, a look of indignation peering out from his tired but always intense eyes.
Snapped well past midnight in the bowels of the Boston arena that hosted the 2004 Democratic National Convention, the image was one of the last captured by iconic fashion photographer and portraitist Richard Avedon (1923–2004).
Like many of the photos featured in the remarkable exhibit, Richard Avedon: Portraits of Power, at the Corcoran Gallery of Art through January 25, the picture stands in stark contrast to the way its subject sees himself.
"It's pretty ferocious," Raskin says. "When I first saw it, I didn't even recognize myself. But my wife assured me that it really was me, and that she had seen that side of me. He certainly saw an intensity in me that I have to acknowledge is there. He definitely was attuned to people's self-presentation, and he used that to uncover what it was that people didn't want to show. He took pictures of people's feelings."
Raskin's portrait is one of more than 200 at the Corcoran exhibit, which brings together a half century of Avedon's political portraits of the country's power elite. Avedon took it for his series Democracy, which ran unfinished in the New Yorker on November 1, 2004, a month after his death.
"Unlike a lot of people, Avedon did not see that election as contentious," said Paul Roth, the Corcoran's senior curator of photography and media arts. "He believed it was animated, and he saw the debate in a good way. He wanted to explore the state of the union through people who represented different aspects of the political debate."
In Raskin, director of WCL's Law and Government Program, Avedon found one of the nation's preeminent constitutional scholars.
"I wrote a book, Overruling Democracy, that came out in 2003," Raskin said. "The subject was the Bush vs. Gore decision in the Supreme Court, and conservative judicial activism. Someone gave him my book, so he called me up and asked me whether he could take my picture. I said, 'Of course.'"
Avedon's staff summoned Raskin to the makeshift studio in the then-Fleet Center at about 1:30 a.m. on July 29. His session was immediately after that of a young U.S. senatorial candidate from Illinois whose keynote address stole the show that year in Massachusetts: Barack Obama.
"When I got there it was the middle of the night, but Avedon was completely energetic," Raskin recalls. "I kept trying to smile, and he kept asking me questions about my thinking on the Rehnquist court and judicial activism while he was snapping. I got the sense that he wanted to take a picture of how I felt about the Supreme Court and what had been taking place in the country. He captured it pretty well."
Twenty minutes after Raskin arrived, his shoot was over. When the series ran in the New Yorker, Raskin's portrait appeared diagonally from a photo of Bill and Melinda Gates (Julian Bond, chairman of the NAACP and distinguished adjunct professor in residence at AU's School of Public Affairs, is also among the 49 photos featured in the collection). At the Corcoran, Roth chose to place Raskin's photo at the very end, next to a portrait of actor Sean Penn with the word "think" written across his knuckles.
"I wanted something that would draw your eye in a very purposeful way," Roth said. "Jamie Raskin was a very good match with Sean Penn because of their hands. Raskin's hand is extended almost as if he is beckoning you.
"In my way of thinking, it's emblematic visually of citizen involvement," he said. "Most people probably don't know who Jamie Raskin is, but it's clear he's a serious person. The subtext of Avedon's intent is this idea that in a democracy, everyone can be involved. Raskin's photo invites you to think about your own relationship to politics and power. It seems to suggest that anyone can find one's self in political debates."