SPExS Programs
Know your next step. Lifelong learning for all stages of academic and professional development.
Graduate Gateway Program
Start a career or prepare for a graduate degree with this skill-enhancing program for recent grads.
More
Our Purpose
The School of Professional & Extended Studies enables life-long learning, from specialized undergraduate studies through mid-career professional education. We offer a wide variety of programs to provide students actionable knowledge to advance their careers, organizations, and communities.
learn more
Summer Programs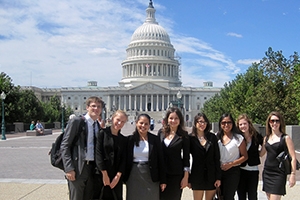 Gain professional skills, study, intern, and experience life in Washington, D.C. this summer.
More
Farsi Foundation Scholarship
The Mohamed S. Farsi Foundation Scholarship offers student leaders from emerging democracies the chance to spend a year studying, interning, and living in Washington, D.C.