On Campus
Students, Donors Celebrate Scholarship Success Stories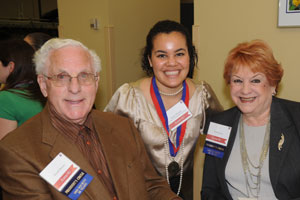 Nearly 250 scholarship donors and student recipients of donor-funded scholarships gathered in the University Club on March 24 for the American University Celebration of Scholarships. The 13th annual luncheon, a favorite among students, alumni, and friends alike, provided recipients the opportunity to thank the generous contributors who help make possible their AU education. For alumni and friends, the luncheon offered the occasion to connect with the extraordinary students who inspire their philanthropy.
Gail Short Hanson, vice president of Campus Life, served as master of ceremonies for the event, which commenced with a welcome by University President Neil Kerwin, SPA/BA '71, and featured keynote remarks from SIS student Sarah F. Weinstein '10, a recipient of AU's Ernest S. and Margaret D. Griffith Scholarship for undergraduate students in the School of International Service. Guests were also entertained by CAS students Kate Duffy '12 and John Fritz '11, who sang, "People Will Say We're in Love," accompanied by Andrew Welch '12 on piano, from the spring musical Oklahoma!
In his address, President Kerwin discussed AU's drive to meet the ambitious goals set forth in the strategic plan and the ways in which alumni and friends bolster the university's momentum. "For each of these aspirations," he began, "the generosity of the men and women in this room is absolutely vital. You're supporting the exceptional and diverse group of students who are in this room today and so many who are not…You're engaged in the preparation of a new generation of alumni who will leave us and carry the message of our ability to transform their lives in every corner of the globe as they take on the most difficult problems of their generation. Like you they will raise our profile, they'll extend our influence and they will stand as eloquent evidence of our ability to achieve this university's most important mission," he said.
Weinstein, who came to AU by way of Seattle, discussed how scholarships have given her the freedom to fully explore the opportunities AU has offered. The greatest gift she can give back to her donors is to consider how her education and experiences can be used to positively influence the world around her, she shared.
"For each student in this room, using your opportunities to give back will take a different form," she said. "However it happens, it is the guarantee that your gift does not stop with you, but rather through the knowledge and self-reflection you engage in while at AU, you use your talents to make a larger impact."
Since the launch of the AnewAU campaign in 2003, 77 new scholarships have been created by generous university donors. In the 2009-2010 academic year alone, more than 400 outstanding students received financial assistance from donor-funded scholarships and fellowships. Endowed scholarship funds provide resources that help change the lives of AU students, making tuition assistance available based on both need and merit.