Alumni
Presidential Receptions Most Popular Among Alumni and Parents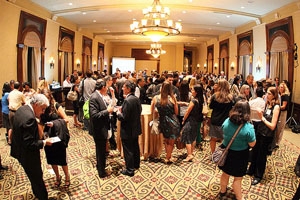 Amidst vastly different opinions in this politically charged time, American University constituents seem united in their appreciation and respect for our university's 14th president, Dr. Neil Kerwin, SPA/BA '71. Alumni and parents around the country come out in droves to see President Kerwin at the presidential receptions held throughout the year. In fact, these events are our most successful, drawing some of our highest percentages of AU constituents in a given region.
So far this fall, the Office of Alumni Relations has already hosted two presidential receptions, one in New York City at the East Side Marriott in Midtown, and another at the Lenox Hotel in Boston's Back Bay. In both cities, alumni, parents, and friends gathered to meet the president, as well as new deans Barbara S. Romzek, School of Public Affairs, and Jeffrey Rutenbeck, School of Communication. With nearly 250 guests in New York and 120 in Boston, energy and enthusiasm filled both rooms and guests left with an even greater sense of AU pride.
"We couldn't be happier with the success of these events," says Raina Lenney, assistant vice president of alumni relations. "Across the board, from New York to Phoenix to London, these events are consistently the most popular among alumni and parents. Not only do they draw a sizeable percentage of our alumni body, the positive feelings generated last well beyond the end of the event. We're so fortunate to have a university president who resonates so deeply and on so many levels with our alumni and parents."
Two more presidential events remain this season. Baltimore Eagles are invited to attend a reception on November 28 at the Hotel Monaco in the Inner Harbor. Featuring the same format as New York and Boston, guests will enjoy complimentary hors d'oeuvres, wine, beer, and soft drinks, along with remarks from President Kerwin, Vice President of Development and Alumni Relations Tom Minar, and Deans Romzek and Rutenbeck.
On December 12, President Kerwin and his wife, Ann Kerwin, CAS/BA '71, will open their home to D.C. area alumni, parents, and friends for a holiday open house. With tasty food and drinks and a warm, inviting environment to mingle and share AU stories, this event is a "must add" to holiday calendars.  
For those looking ahead to coming months, the Office of Alumni Relations has four presidential receptions planned for late winter and spring:
February 5: Dallas
February 6: Houston
March 7: Philadelphia
April 25: Northern Virginia
Keep checking the alumni events calendar and your email inboxes for more information about these upcoming receptions. In the interim, we encourage our Baltimore and D.C. Eagles to register for the events in their areas. We hope to see you soon!