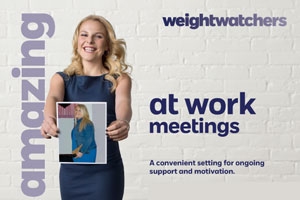 JOIN ANYTIME!
Weekly Meetings: Sessions meet every Thursday at 12:00pm in MGC 245, except for the following dates:
December 3rd: MGC 330N
December 17th: MGC 330N
February 25th: MGC 200
March 17th: MGC 200
April 7th, 14th, and 21st: Butler Conference Room


Next Open House: Thursday, February 11th | 12:00 pm |
Ever wonder what goes on at a Weight Watchers meeting? This complimentary session is your chance to see what Weight Watchers is all about before enrolling.
Next Series: Tentatively begins Thursday, February 18th. Please note that we MUST reach a minimum of 15 participants for the next series to run. 
If you are interested in joining Weight Watchers at Work, please notify AhealthyU by COB Thursday, February 18th.

With this 12-week program for a special price of $156 you can attend sessions right here on AU's main campus.
***For every 10 meetings that you attend, AhealthyU will give you a $50 reward (taxes applicable) **

Can't make the on-campus meetings?
You can enroll through AhealthyU and attend meetings in the community, and still receive the AhealthyU benefits!

For questions, please contact AhealthyU