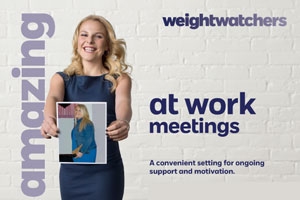 JOIN ANYTIME!
The next Weight Watchers at Work series begins on January 22. Attend the first meeting to enroll. Payroll deduction available.
Weekly Meetings: Sessions meet every Thursday | 1:00-1:45pm | Mary Graydon Center Room 330-N (through January 8th, 2015) See schedule below for meeting locations after January 8th
Next Open House: Thursday, January 15 | 1:00 - 1:45pm | MGC 245
Ever wonder what goes on at a Weight Watchers meeting? This complimentary session is your chance to see what Weight Watchers is all about.


***For every 10 meetings that you attend, AhealthyU will give you a $50 reward (taxes applicable) ***

Weekly Meeting Locations
All meetings begin at 1:00pm

Thursday, January 15: MCG 245
Thursday, January 22: Butler Conference Room
Thursday, January 29: MGC 245
Thursday, February 5: MGC 247
Thursday, February 12: MGC 245
Thursday, February 19: MGC 245
Thursday, February 26: MGC 245
Thursday, March 5: MGC 245
Thursday, March 12: MGC 245
Thursday, March 19: MGC 247
Thursday, March 26: MGC 245
Thursday, April 2: SIS 300
Thursday, April 9: MGC 245
Thursday, April 16: SIS 300
Thursday, April 23: SIS 300
Thursday, April 30: MGC 245
Thursday, May 7: MGC 245

For questions, please contact AhealthyU