Environment
AU Teams Up on International Sustainable Home Competition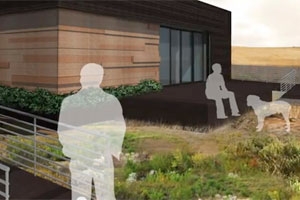 D.C. gridlock? Not in the District of Columbia's universities.

American University teamed up with two other D.C. universities to showcase each school's strengths in the upcoming U.S. Department of Energy Solar Decathlon, an international sustainable home competition.  This group of more than 100 students and faculty mentors began construction today on a one-of-a-kind, energy-efficient home designed to foster the healing of a U.S. military veteran. Watch video from the groundbreaking.

The partnership represents an unprecedented collaboration across academic disciplines and universities for the citywide "Team Capitol DC," which includes architecture students from The Catholic University of America; engineering, landscape, and interior design students from The George Washington University; and communication students from American University.
"I have been so impressed by the design and engineering work of our teammates at Catholic and GW, and I am thrilled to see such an outstanding communication plan from our AU students and faculty.  The collaboration has been inspiring, " said Dean of AU's School of Communication Jeff Rutenbeck.  
The team will build its zero-energy-output house, "HARVEST HOME," on the campus of Catholic University through May, and then deconstruct and move it across the country in the summer to compete against 19 teams in the Solar Decathlon 2013, which takes place Oct. 3-13 in Irvine, Calif.
Two AU SOC professors – Caty Borum Chattoo, Executive in Residence, Public Communication, and Larry Engel, Associate Professor, Film & Media Arts – lead the integrated strategic communication and video production team for the project, working with a group of outstanding undergraduate and graduate students from the Public Communication and Film & Media Arts divisions. The AU SOC student team includes Lauren McCarty, Chris Jasinski, Kelsey Marsh, Krystala Skordalos, Anedra Edwards, Alexandra Ruperti, Richard Fields, and Cara Levine.
The core of the integrated communication campaign is the project's blog, transformed into a mini-channel with videos and blog posts and promoted via social media channels. The site, www.TeamCapitolDC.org, will house regularly-updated video assets produced by SOC's video team and housed on the project's YouTube channel and blog.
Additionally, the AU team will maintain the Team Capitol DC's social media platforms as
outreach tools to promote new content on the blog and website, including webisodes and new video elements.

"This is a unique opportunity for our students to learn vital skills outside a classroom setting – they are working at a high level across disciplines and across campuses, with multiple faculty mentors and professional consultants. And the project itself is a meaningful contribution to sustainability, so working on a project with an important public purpose is rewarding for all involved," Borum Chattoo said.
SOC graduate student Kelsey Marsh is the pre-production and production team leader of Team Capitol DC, where she uses her expertise in film and video.
"I was introduced to the Solar Decathlon last fall during my Film & Video Production course and was intrigued by the idea of students from three separate universities teaming together to design and construct a solar home," Marsh said.
Elizabeth Linares, who is pursuing her MFA at SOC, feels fortunate to work with such a dynamic group of students. 
Team Capitol DC is using a unique approach to combine innovative architecture with engineering to create a home that harvests as much energy as it produces. The team's house will be built using sustainable resources such as reclaimed materials, natural ventilation, solar panels, solar thermal systems, and water collection systems in order to remain self-sustaining.
The home's design elements will also take into account its future resident, a wounded U.S. military veteran, and ensure a primary focus on physical and mental healing. By utilizing sustainable materials, incorporating efficient features, and employing advanced biomedical technology to monitor and adjust to the resident's physical and mental condition, the home will promote a sense of well-being.
Follow Team Capitol DC's journey at www.TeamCapitolDC.org and @TeamCapitolDC on Twitter, Facebook.com/TeamCapitolDC, YouTube.com/TeamCapitolDC