First Person
Hard Work Pays Off for Dean's Intern at USA Today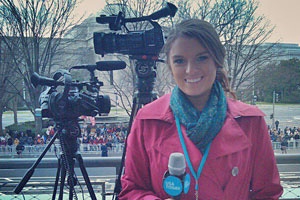 Below is a first person account from Dean's Intern Katelyn Chesley on her internship at USA TODAY.
I will never forget the moment that USA TODAY Video Director Steve Elfers told me I was selected for one of the School of Communication's prestigious Dean's Internships. I wanted to cry. I have worked so hard for an opportunity like this, and now all that hard work has paid off.
My first assignment as an intern was the 2013 Inaugural Parade. I assisted my supervisor in filming the parade from the upper deck of the Newseum and quickly learned how to set up a tripod, camera, check white balance, and reformat a memory card. Halfway through the day my supervisor handed me a camera and a microphone and said, "Here, go interview people." I had never interviewed someone on the spot and I had no experience with the camera she gave me. I was nervous to say the least, but after a few shaky interviews I really started enjoying it. The experience was incredible. How many people can say they documented one of the most unique moments in history for one of the top media outlets in the country?
On a typical day at USA TODAY I prepare still images for USA NOW (USA TODAY's daily news show) and edit videos for both their print and online stories. The work environment is fast paced and the deadlines are strict, but the video team continuously finds ways to help me learn and grow.
In the next few weeks I will submit my application to USA TODAY's Talent Development Program. If accepted, I will continue my personal and professional development at the company in a full-time paid position.