Gallup Pro Joins Students for Debate Watch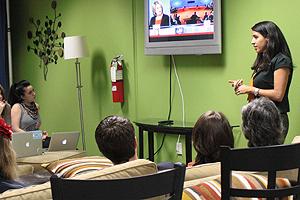 As President Obama and Mitt Romney prepared to square off in their second debate, graduate students in the American University Political Communication program gathered for a debate watch class/party on campus. The town hall debate, moderated by Candy Crowley, featured questions asked by undecided voters chosen by the Gallup organization. The debate coincided with School of Communication Executive in Residence Dotty Lynch's Political Research class, and she made the most of the opportunity for students by inviting Lymari Morales, the managing news editor of Gallup.com, to talk to students about how Gallup determines this voter pool and how she views the polls in general.
"This was a great way to get the first and second year Political Communication students together for an event they undoubtedly would have watch individually and to share insights on the strategic goals of the candidates and how they were executed," said Lynch.
The watch party included about 30 Political Communication students including the mother of student Libby Edgar, visiting from the UK, several second year MA students and one graduate, Erika Maynard who is with the Department of Commerce. The Political Communication MA is a joint program offered by American University's School of Communication and School of Public Affairs which provides an understanding of the theory and practice of political institutions as well as the interaction between those institutions, the media and the public.

Morales, who is also an adjunct professor of journalism at SOC, was "fantastic" says Lynch. "She not only gave us the background on how the uncommitted voters were selected by Gallup but some 'insider' information about the challenges in recruiting people this time and how Gallup worked to convince skeptical New Yorkers that this was 'legit'."

Student Jasmine Wade appreciated the inside information. "One of the things I found interesting was when picking audience for the town hall debate both candidates have to agree on the questions that will be used and this time around it was particularly tough because both campaigns went back and forth for a while before coming to an agreement."
Lynch was pleased with the context and expertise Morales was able to contribute to what the students had already learned in the political communication program. "I taught survey sampling in class last week and Lymari really made it come alive for the students. All the rules they learned were applied by Gallup and they had a very high profile example of how random sampling is applied and why it is so important."

"Taking it out of the classroom though still on campus made people more comfortable sharing insights and getting to know each other better," Lynch added.
Wade echoed Lynch. "Watching the debate with my peers was a little intense." Unlike in the classroom, "You were able to clearly identify which student stood on which side as far as their political views were concerned."