Professional News
Appointment of Michael L. Nichols as Director of the Office of Sponsored Programs (OSP)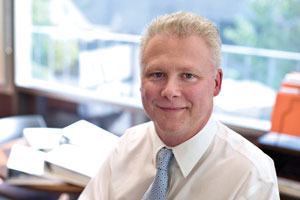 I am pleased to announce the appointment of Mr. Michael L. Nichols as Director of AU's Office of Sponsored Programs, effective July 9, 2012.
Mr. Nichols comes to the position from the Office of Sponsored Programs at Emory University, where he was promoted from the Associate Director of Pre-Award Services to the Director of that unit in February, 2010.  Prior to his appointment at Emory University, he was a Senior Grants and Contract Specialist at the University of Maryland, Baltimore County, the Cedars-Sinai Medical Center and the California State University, Fullerton.  He has more than a decade of expertise in grants and contracts administration in highly research active universities, organizational management, as well as institutional compliance to federal regulatory requirements.  His graduate training includes both a law degree and a master's degree in public administration.
As Director of the Office of Sponsored Programs, Mr. Nichols will be responsible for the direction and management of all pre-award grant and contract administration operations at American University.  He will provide leadership for integrating national best practices into current institutional policies and procedures related to the review, negotiation, and acceptance of sponsored research awards from federal and private foundation sponsors.  He will also enhance faculty efforts to engage in effective application development and implementation via: Updated guidelines for accepting research awards, standard negotiation manuals and sponsored research templates, master sponsored research agreements, and in partnership with the Office of Grants and Contracts Accounting (GCA) standardized training on pre- and post-award policies and procedures for personnel engaged in sponsored research in academic and teaching units.
Please join me in welcoming Michael Nichols to his new position as Director of the Office of Sponsored Programs, and as a valuable addition to the Office of the Provost.