Research Success Story
Evolving Environmental Policy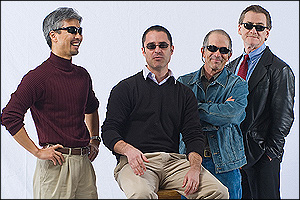 It takes more than good intentions to make good environmental policy. It takes the deep and varied knowledge that only teamwork can bring. For students in the interdisciplinary course Practice of Environmentalism, that meant a 10-day research trip to the Galapagos Islands with faculty from three disciplines—environmental science, environmental policy, and film.
"Making good environmental policy requires the science part, the policy part, and the communication part," says Kiho Kim, chair of AU's Department of Environmental Science. "Just because you have a good scientific piece of information doesn't mean it will necessarily be received well and correctly by the people you're trying to pass it on to."
Galapagos became the backdrop for learning about energy sustainability, ecotourism, and resource use. For faculty, it also became a laboratory where they worked to learn the best ways to collaborate across disciplines, all while mentoring students as they created films and media-savvy projects that could have real-world impact.
Faculty, too, collaborated in innovative ways. The class was team-taught by Kim, CAS; environmental policy expert Simon Nicholson, SIS; and filmmaker Larry Engel, SOC. Veteran backpack journalist Bill Gentile, SOC, and associate dean Leeanne Dunsmore, SIS, also traveled with the class in the Galapagos.
"The way we envisaged the course," said Nicholson, "is that it's about being more effective in really making change in the world. People from politics, science, and communication need to share ideas and think about what it takes to really do something about what we all consider to be pressing challenges."
It began at AU with a semester of studying the natural history, biology, and ecology of island environments; the global policy issues that affect how scientific issues can be addressed politically; and how those complex matters can be captured in ways that will encourage the public to listen.
Then came the time to test ideas in the field in multidisciplinary student teams. One group worked on a film on shark finning, the practice of cutting off fins as delicacies and dumping the shark back in the ocean. They also worked on a series of Web episodes on being a responsible eco-tourist, a film on alternative energy, and a simulation game for elementary school children on biodiversity.
Nor did it end with the semester. The students plan to polish the projects on their own time, even though some are graduating, and faculty are helping them out.  Perhaps the greatest finding of the semester is that a class that combines three disciplines, overseas fieldwork and student-led projects can be more than a good idea. It can be so successful that the experience of learning takes on a life of its own.