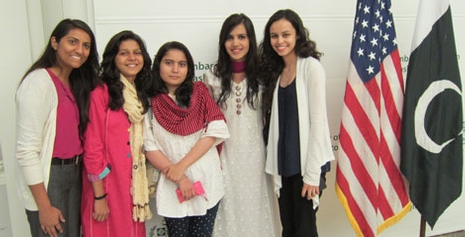 The U.S. Summer Sisters Summer Exchange Program encourages gifted female high school students to imagine more for their future by allowing them to study science, leadership, and international affairs at prestigious U.S. universities.
This summer, six young Pakistani girls received summer scholarships to study at Harvard University, Smith College, American University, Mount Holyoke College and the Eleanor Roosevelt Leadership Center at Vassar College. These students were selected based on merit from our partner schools in Pakistan: CARE Foundation, Developments in Literacy (DIL), The Citizens Foundation (TCF) and Beaconhouse. The U.S.-Pakistani Diaspora is a strong supporter of CARE, DIL and TCF, which provide free or low cost education to children of lower income families.
The "Summer Sisters" agreed that their time in the U.S. exceeded their expectations. As one said, "The Summer Sister Program provided spectacular memories that I will cherish for the rest of my life. I made wonderful friends and learned galore. This instrumental opportunity has paved the way to my career."
Through the generous support of the five U.S. universities, Pepsi Cola, Locke Lorde, and individual donors, the Summer Sisters developed their leadership skills, gained confidence to invest in their future, and served as cultural ambassadors to the United States. In doing so, they enriched the experience of their fellow students. As the program coordinator at Smith College explained, "The American students were especially interested in learning about [the Pakistani student's] family and lifestyle, which sparked many conversations about gender roles, equality, and religion. These conversations about differences are critical, because they help eliminate stereotypes of women in Pakistan, but also highlight the need for more access to opportunities for Pakistani women and girls. [The student] was the perfect representative of this dichotomy, and demonstrated the talent and intellect that Pakistani women have to offer the world."
The Council will continue to encourage the Summer Sisters long after they return to Pakistan by arranging scholarships, internships, and job referrals. We have also paired them with professional female mentors in the U.S. and linked them to opportunities provided through the alumni program of the Fulbright Commission.
Harvard University Secondary School Program

The Secondary School Program (SSP) is designed to let high school students experience college life, alongside college and adult students. Summer Program students can earn college credit in Harvard courses and explore subjects not available at high schools. They study with distinguished faculty, use state-of-the-art labs, and have access to the largest university library system in the world.By living on campus or participating in intramural sports, a trivia bowl, dances and other school activities they can make friends from all over the globe. They can also attend college prep workshops, a college fairs, and talks by Harvard students and Harvard admissions staff.

American University Community of Scholars

The Community of Scholars program is a rigorous college-credit summer program designed for students entering their junior and senior years of high school. The Community of Scholars offers academically outstanding students the chance to broaden their understanding of international relations by enrolling in a three-credit college class designed just for them. Students admitted to this program will sample the undergraduate experience and take advantage of what the School of International Service (SIS) has to offer. Community of Scholars introduces students to the advancing field of global affairs through college-level coursework. Whether online or in class at AU, instructors provide dynamic lectures and engage students in discussions as well as simulations, such as a mock UN debate.
Babson College Summer Study Program

The Summer Study Program provides a living/learning laboratory for students to focus on applying and advancing their knowledge in business and entrepreneurship. In this collaborative community, students will gain the tools and experience first-hand of how to impact and reshape organizations, industries, and the world. Each program will introduce students to Babson's way of Entrepreneurial Thought and Action and provide resources and strategies for students to think about company and world issues through their classes, cases, speakers, and scheduled activities.

Eleanor Roosevelt Center Girls' Leadership Worldwide at Vassar University

This international leadership development program is comprised of selected students who are entering their sophomore and junior year of high school next fall. During this residential program, girls from diverse cultures and backgrounds come together to engage in workshops and activities designed to fully awaken the leader within them, using the leadership model of Eleanor Roosevelt. Girls experience interactive workshops, field trips to New York City, the United Nations and other significant sites, while building supportive relationships with inspiring mentors and peers.
George Washington University Summer Immersion Program

Summer Immersion is a pre-college, non-credit program for rising sophomores, juniors, and seniors. Summer Immersion students enroll in two-week, full-day, non-graded courses that integrate lecture-based instruction with experiential and applied activities. Students expand and deepen their knowledge of a topic through collaborative learning and an exploration of the diverse intellectual and cultural resources of Washington, DC.

Smith University Smith Summer Science and Engineering Program

The Smith Summer Science and Engineering Program (SSEP) is a four-week residential program for exceptional young women with strong interests in science, engineering and medicine. Each July, select high school students from across the country and abroad come to Smith College to do hands-on research with Smith faculty in the life and physical sciences and in engineering. After the program, participants return to high school better prepared to tackle tough science courses and better informed about what to expect in college.